2001 Bayliner 4788 (OFF MARKET as of 2/20) and COMPS
Specifications:
Price:

$ 185,000.00

Location:

Stamford Ct.

Year:

2001

Length:

47

Boat Type:

Power
Fuel:

Diesel

Engines:

2

Make:

Baylliner

Model:

4788 Pilothouse

Boat Name:

Leena B
---
---
---
This is the complete list of Bayliner 4788's sold EAST of I-5 in the entire World from January 2019 to February  2020
1998 4788         Ask $239k (04/10)                                      Sold $203,000 (01/19)                                                      Michigan USA
1998 4788         Ask $219k (02/19)                                      Sold $$210,000 (04/19)                                                    New York USA
1999 4788         Ask $179k (08/18)                                      Sold $175,000  (06/19)                                                     New York USA
2000 4788         Ask $180K (06/18)                                     Sold $155,000  (07/19)                                                      Maryland USA
1998 4788         Ask  $189K (07/18)                                    Sold $160,000 (10/19)                                                       Ma. USA
2000 4788         Ask  $179k (05/19)                                     Sold $163,500 (10/19)                                                      Maryland USA
THIRTY TWO (32) of these were sold on the West Coast of N. America in the same time.
| | | | | | | | |
| --- | --- | --- | --- | --- | --- | --- | --- |
| Owner removed her from the market due to tire kickers and stupid offers. | | | | | | | |
370 hp Cummins Diamond Series with 1271 hours. A 12.5kw generator. All maintenance and engine service is up to date by Cummins dealer.
.
Yesterday she ran five hours at 2500 rpm, and her transom was totally clean afterwards. This vessel is NOT over propped, which is a problem that plagues the vessels with the 330 hp Cummins. There IS a difference between the engines, it's not just the CPU code settings and injectors. I have a link on my site to THE engine expert.
Recent work and updates:
Bottom paint 2018
Major servicing of both vacuflush toilets 2017 ($1500)
Ice maker replaced 2018 ($$)
Hydraulic rudder ram pumps replaced 2016
Microwave replaced 2015
All batteries  replaced 2019
Lower end of Westerbeke generator replaced. 12.5 kw 2016
New blinds 2015
Carpet professionally cleaned throughout boat 2018
All zincs replaced every year. Running gear and engines
NEW Salon AC 2012
Engines serviced every year by Authorized Cummins dealer. I have work orders going back since new. This is a one owner boat.
Ship hauled every year and shrink wrapped for the winter. Always. Boat has spent its entire life in the Northeast with western Long Island being its primary cruising area. Detailed every Spring and washed every 2 weeks.
I also have in storage the original barrel chairs that came with the boat.
NEW 10' Avon inflatable with 10hp Tohatsu outboard engine -2018
ALL PHOTOS ARE FROM AUGUST 18th/19th  2019.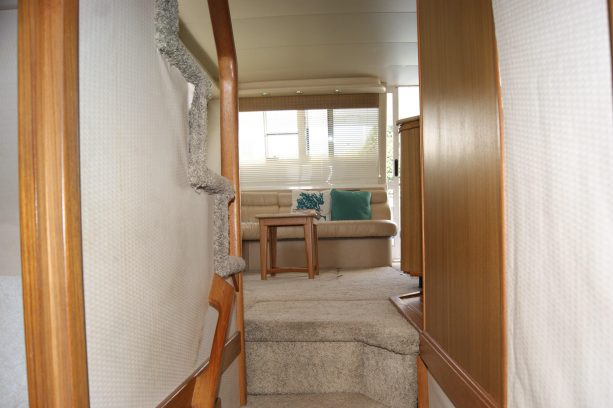 The 2001 4788's and the 2005 Meridian 490's are the most popular model years due to the light colored countertops.
Lets go down below decks shall we.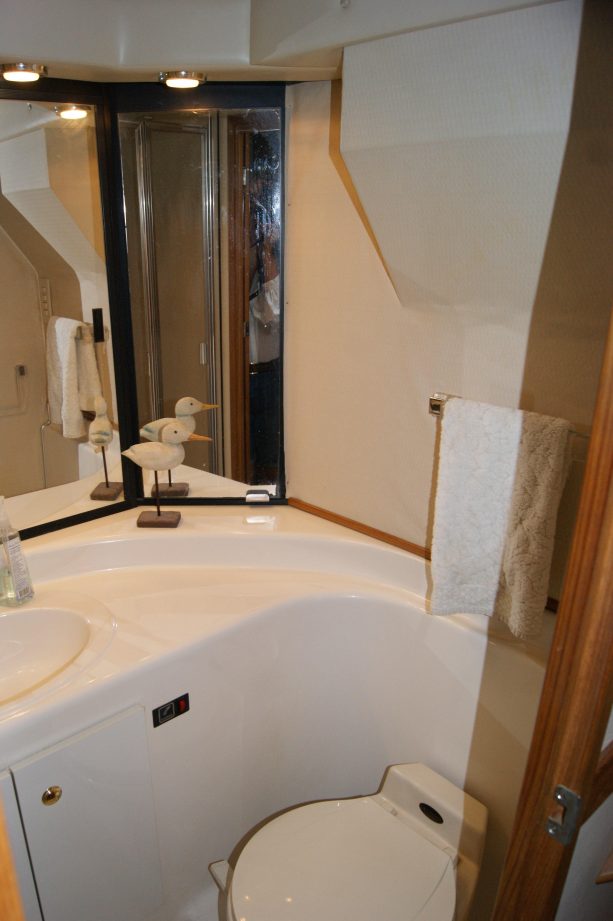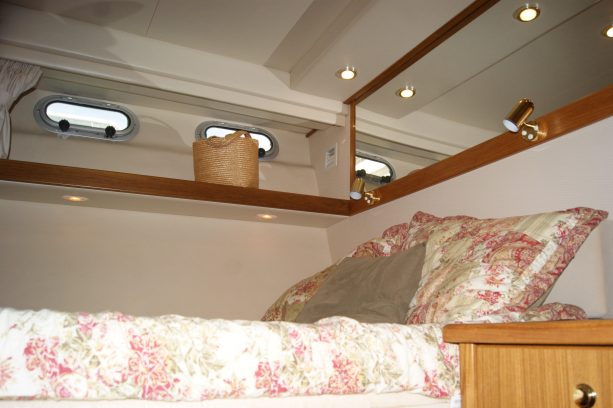 No matter how many times I upload photos of the master stateroom and the master head, no matter how many times I edit them-they keep loading sideways. I'll be happy to email them to you. Or you can go see it on Yachtworld.
This is a Central Listing of Blake Davis and John Novak at 516-455-7398 (he prefers TEXT FIRST) The owner came to me and I contacted John in NY, because he's located near the boat, and will be the one showing her to you. So feel free to call him (Yachtworld) or myself at 305-956-3818 (TEXT FIRST)  Send email to "Pilothouseking@icloud.com"
Particulars are believed to be correct but not guaranteed. Please have your surveyor confirm any information of condition and specs.