47′ Bayliner Pilothouse-1998 Moral of the story for you SELLERS
Specifications:
Price:

$ 169,900.00

Location:

Halifax Nova Scotia

Year:

1998

Length:

47

Boat Type:

Power
Fuel:

Diesel

Engines:

2

Make:

Bayliner

Model:

4788

Boat Name:

Sea Bee
---
FINALLY (2017) she  sold after seven years of the owner trying to sell her himself he finally accomplished it. This EIGHT years after he turned down cash offers of $180k-$190k because he didn't want to pay a 10% commission.  Did he save a dime?  His asking price at time of this sale was $166k. His expenses (insurance, maintenance, and upgrades ALONE ) since turning down a cash formal offer of $190k years earlier was easily $200k.  Sellers: Be SMART- your first offer is usually  the best offer.
I sold him this yacht in 2008 for $180k (seller paid a 10% commission) At that time she was the nicest 4788 in South Florida under $200k.. The owner ran her home to Nova Scotia on her bottom THEN paid Canadian duties and taxes. Over the years, he totally gutted (whole interior removed) the boat and UPGRADED (bolted on new rub rails, new teak and holly flooring, new electronics, new bow thruster, and "new, new, new, and new") and repaired item after item. WHY? Because  the vessel was built in 1998 wasn't it?
She now has a bow thruster,  a complete  new rub rail, (because there's no more availability of the original aluminum extrusions used on the pre-1999 models) by dismantling the complete interior and thru-bolting the new rub rail. LET ME REPEAT that: "taking apart the complete interior and thru-bolting" This is the way they were built new, except the factory had a tendency to miss bolt holes, and not fully seal the joint. I've never seen an aftermarket rub rail that wasn't just screwed in. The problem is that the screws sometimes don't go into the hull, but push the hull away from the deck joint, whick makes a gap.
The factory carpet has been replaced with a teak and holly sole, the galley is now tiled with cork.- quite well I say.  New electronics, New Pilothouse helms seat and upholstery,.  On and on and on!    Look at ALL the photos, survey, and full specs.
Sept 2017 updates. One of the exhaust risers is in the process of being replaced with a new one. She has new stainless steel windshield wiper arms.
Raymarine A127 with HD Radar dome and transducer. (6/26/2016)
He also  installed a center hatch in salon (the same as the later model Meridian 490's) and I think it spectacular.  The summer of 2014 he replaced the original TV with a flat screen, and utilized the gained space with storage via the galley (photos posted) and added new stereo, and speakers, plus an inverter to run them all.   There's certainly no nicer upgraded 1998 4788 on the market.  The photos don't lie.   New set of photos 8/8/14 posted showing further upgrades.  Survey from May 14 is posted.
Official Number 833617
Port of Registry Halifax, NS
NRT 21.64 Tons
GRT 16.23 Tons
VIN #: BVKA04EVF798
Engine Twin diesel – Cummins 330 hp each
Material Cored Fibreglass
Hull Colour: White
Length Overall 47' – 06"
Beam 14' – 11"
Draft 03' – 00"
Light Displacement 30,000 lbs
Load Displacement 35,000 lbs estimated
Fuel 440 US Gals
LOA: 54 ft 0 in             LOD; 47′             Beam: 14′ 11″            Draft: 3'04″        Bridge Clearance:  18'02″       Dry weight: 29,990lbs
Fuel: 444 gallons       Water: 200 gallons      Holding:  48 gallons
         Twin 330HP Cummins Diesels w/1840 hours
·         12.5 KW Westerbeke Generator In Sound shield w/890 hours
·         2500 Watt Inverter
·         6 Heavy Duty batteries
·         3 Reverse Cycle Heat & Air Conditioners
·         4 electric Heaters
·         Raytheon Plotter, Radar & VHF Radio's Digital Tachometers,
          Seatalk ST 7000 Autopilot,
·         Electric flush Toilets
·         Custom Center Hatch In Salon To Access Engine room
·         Dingy crane
·        
Muir electric windlass with 100′ chain and 200' rode.
·        
Vetus 125 Bow Thruster
·        
New high end fresh water pump and plumbing
·        
Rubber rub rail
·        
Custom winter cover
This yacht is very sea worthy and will perform well in waters rougher than the Admiral will want to be out in.  Note: she ran on her bottom from Ft. Lauderdale Florida to her home in Halifax  Nova Scotia.
SURVEY- MAY 2014:
BACKGROUND
The vessel was purchased by the Owner in the USA in 2008 and was mobilized to Halifax under her own steam. Since her arrival in Canada, considerable refit and refurbishment has been carried out including;
 Forward 2 staterooms combined into a large master stateroom with a queen berth and upper & lower bunks.
 Master stateroom and adjoining head totally refurbished providing significantly more space.
 Master bath tub enclosure and guest heads shower stall upgraded to totally waterproof Fiberglass reinforced panels.
 All interior carpet removed and replaced with teak & holly decking.
 New engine hatches installed to allow improved engine room access.
 Galley deck replaced with cork flooring.
 New 6 zone audio/visual entertainment system installed.
Hull
The cosmetic appearance of the hull is well above average for a 16 year old vessel which reflects on the proper maintenance program that the present owner has carried out since acquisition five years ago.
The external hull and topsides were examined for any signs of osmosis, blistering or de-lamination. There was no indication of any deterioration in the hull molding from the time of build, nor was there any evidence of grounding damage to the keel or spray rails. Percussion sounding of the hull revealed no abnormal indication of moisture content within the laminate.
The hull / deck molding joint, is completely and firmly seated around the entire hull joint. There is no indication of any joint failure caused by de-lamination, collision or hard landingAll through hull fittings above and below the waterline are properly installed and in good working condition. The sea water cooling strainers fitted on all underwater intakes are clear of debris or marine growth. There are three internal transducers built into the hull bottom and two speed logs, both of which are operating freely.
Deck fittings are manufactured of stainless steel and are all well inserted through the fiberglass in their original seating's without any sign of corrosion or hull stress.
The bow anchor roller is firmly fitted into the bowsprit and in good condition. There is a Jabsco spotlight mounted on the bow pulpit with remote control from the wheelhouse.
The trim tabs and their hydraulics are in good working order. The owner advises that sacrificial anodes for all trim tabs and the propeller shafts will be renewed prior to seasonal launch.
Both 2" stainless steel propulsion shafts are in good order without any play or movement within the shaft bearings and both four bladed 24" diameter propellers are in good condition without any damage.
The twin rudders are in good condition and are firmly fitted in their post bearings without any play or loose fittings.
A Vetus 125 bow thruster is installed in the hull
and all components sighted are free and clear of any obstructions.
Interior
The teak paneled interior is comprised of three decks levels, Pilothouse, Main Salon and lower forward sleeping accommodation. All windows, portlights and windshield system components are properly installed, well sealed and weather tight without any chips, cracks or other damage.
As mentioned previously, all interior flooring has been replaced throughout with very high quality teak and holly decking. The interior condition of the vessel is well above average for this age of Bayliner 4788 which is a reflection of the Owners dedication to continual improvements and good ship husbandry practice.
Pilothouse
The Pilothouse has a full beam command centre sliding exterior doors on each side. An "L" shaped settee is installed on the port side with a removable section in way of the port wheelhouse door. Both doors are in good condition and operate freely.
The helm station instrument panel is fitted with:
 Temperature gauges for both engines
 Oil pressure gauges for both engines
 Volt meters for both engines
 Tachometer for both engines
 Engine Synchronizer
This vessel is very clean, upgraded, well maintained, and nicely equipped. It is a pleasure to cruise in whether if it is for an afternoon or a month's journey.  
Main Salon
Steps down from the Pilothouse, the main salon houses an "U" shaped galley area with Corian countertops. Galley equipment includes a Norcold Model DE0061R combination fridge freezer, a 3 burner Princess stove and oven, microwave and twin stainless steel sinks with hot and cold pressure water supply. Upon inspection all hoses and plumbing was found to be in good condition and properly fastened.
Safety on this boat is enhanced as no propane is used for cooking, heating or hot water.
Adjacent to starboard from the galley area is an entertainment center and wet bar with a built in icemaker aft of which is an "L" shaped leather settee with a folding teak table and twin tub chairs and coffee table installed on the port side.
Access to the aft cockpit is by way of a sliding door which is properly installed, well sealed and weather tight.
Where accessible, all plumbing to the heads sinks and showers were inspected and found to be in good condition and properly installed. Accessible bilge areas under the cabin sole were inspected and found to be in the same good condition. The tub/showers and the air conditioning system drain into bilge sumps drained by 800 gph bilge pumps.
The heads pump to a black water MSD holding tank system with optional overboard discharge.
Cockpit
The aft cockpit is accessed through a door in the transom from the swim platform on the starboard side. There is a transom shower installed by the swim platform. The cockpit has three hatches leading to storage under on either side and the generator and batteries installed in the midships locker.
Flying Bridge
The flying bridge is fitted with a helm station complete with repeater instruments interfaced to the main panel at the lower helm station. There is an adjustable helm seat installed with bench seat on either side. Access is by way of a cockpit ladder aft or down to the pilot house through an angled, weather tight acrylic companionway.
All construction moldings, fittings and windshield components were noted to be in good condition and properly installed. The full Bimini top was not sighted as it was stored ashore for winter layup.
Switches for the following circuits are installed at the helm station:
 Dash lights
 Courtesy lights
 Anchor light
 Depth sounder 1
 Bilge pumps Fwd/Midships/Aft
 Blower
 Horn
 VHF
 GPS
 Stereo
 Depth sounder 2
Radar Arch
A radar arch is fitted above the flying bridge from which all antennas and receivers are installed. The arch is in good condition and properly fitted without any apparent defects.
Navigation and Communications
A Ritchie compass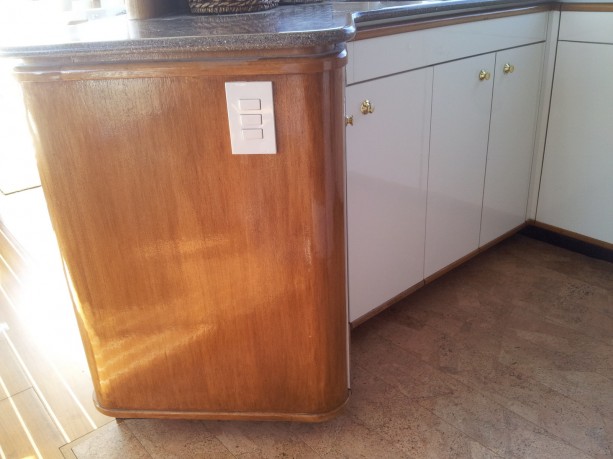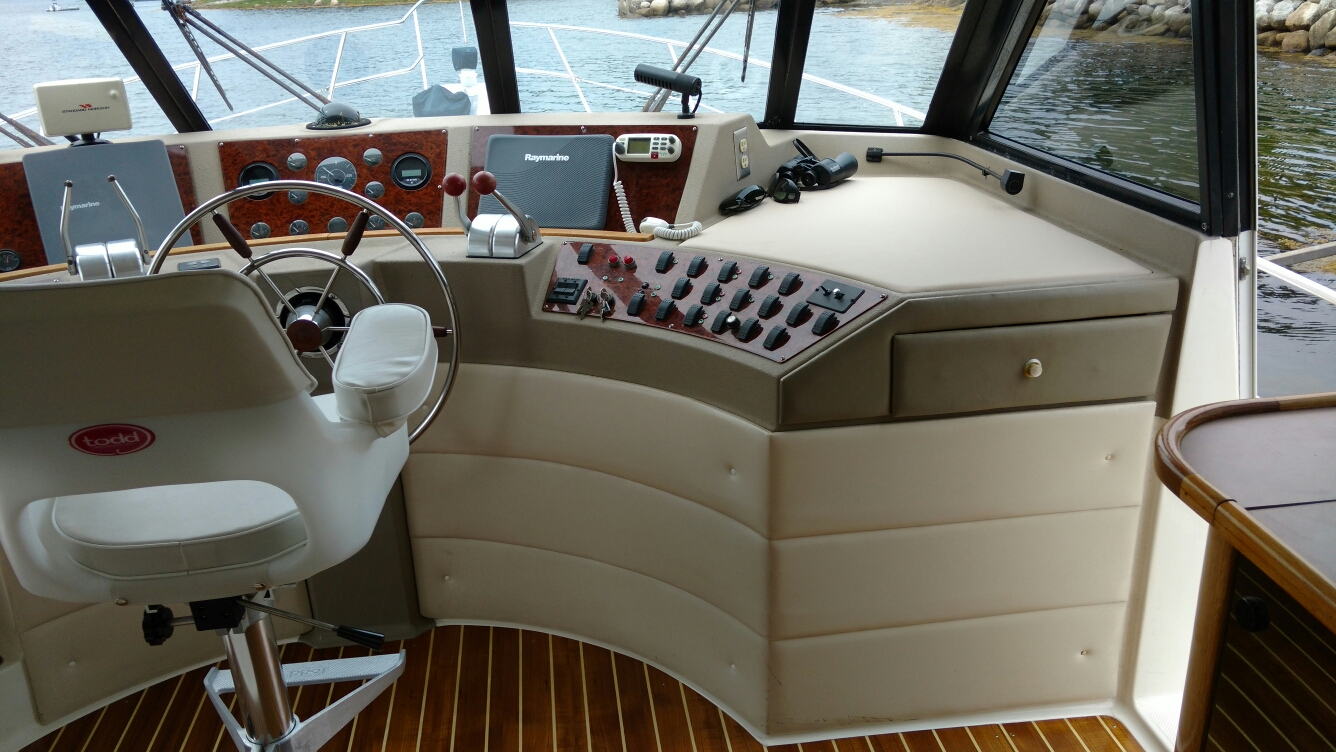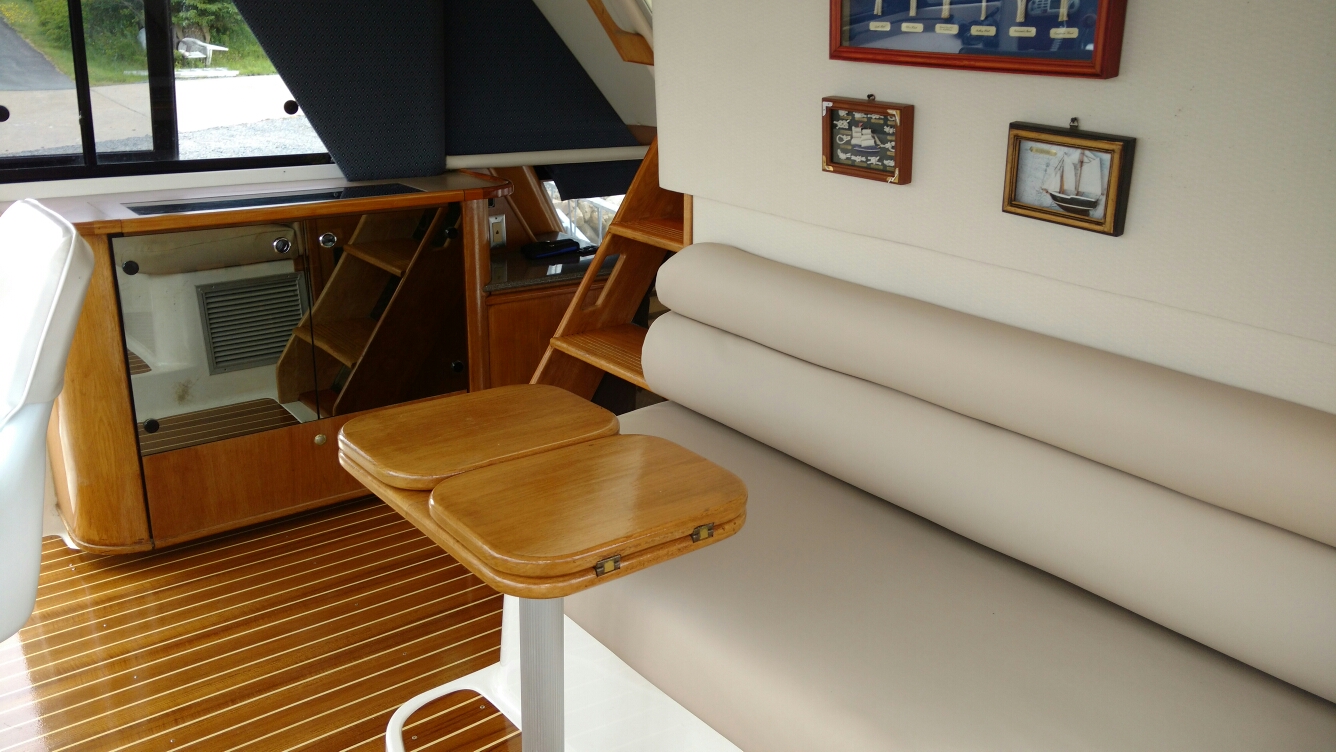 Trim tab controls
 Spotlight control
 Fuel level gauges for both tanks
 Engine shut-down system
 Bow thruster controls
The following electrical switches are installed at the helm station:
 Bilge pump fwd
 Bilge pump midships
 Bilge pump aft
 Wiper port
 Wiper center
 Wiper stbd
 Windshield defroster
 Windshield washers
 Instrument lights
 Navigation lights
 Anchor light
 Horn
 E.R Blowers
 Accessories
Electronics 
The following electronic equipment is installed at the Pilothouse helm station:
 Standard Horizon GPS chart plotter 180i
 Raytheon R21XX radar
 Raymarine RL80C Radar/GPS/Chartplotter
 Seatalk ST7000 autopilot
 Autohelm Tri Data unit
 Cobra VHF/DSC VHF radio
 Search light controls
Galley

Norcold refrigerator w/freezer
Dbl. Stainless steel sink
U-line icemaker
Corian countertops
Moen single control faucet
Bendix combo washer/dryer
Princess 3-burner electric stove w/oven
Central vacuum system
Matching dishes & flatware
Coffeemaker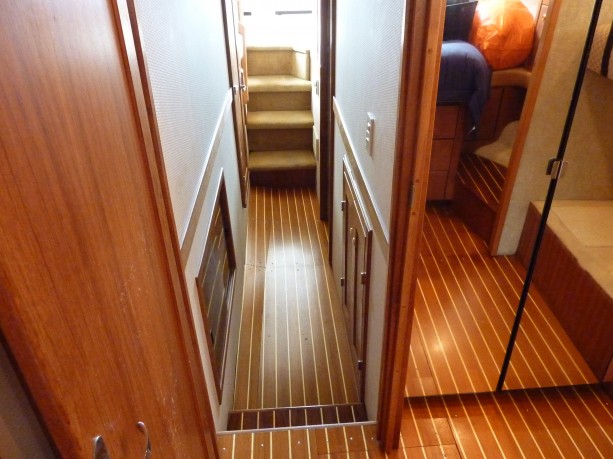 Deck and Hull
Fortress FX37 Anchor w/300′ of rode and 20′ of chain
Fortress FX23 Lunch hook w/rode and chain
45 lb. Storm anchor w/rode and chain
Bow and pulpit rails
Fiberglass deck
Swim platform and ladder
Muir Electric windlass
Electric dinghy davit
Fenders and lines
Life jackets
Navigation lights
Electric search light w/remote
New Bimini Top
Windshield screen
A Ritchie gimbaled, standard magnetic compass is installed at both the helm position and flying bridge control position
The following electronic equipment is installed at the flying bridge helm station:
 Humminbird Wide 3D fish finder
 Garmin GPS Map 540 color chart plotter (Not sighted, in winter storage ashore)
 Autohelm Tri-Data depth/speed/log
 Autohelm ST 6000 Autopilot
 Interphase Probe forward sonar scanner
 Standard Horizon depth sounder
 Bow Thruster control
 Standard Horizon VHF
 Standard Horizon LH 5 VHF
 Cassette Player
Engines
The boat is powered by Two Cummins Model 6BTA 5.9, 330 hp. inline-6, four cycle, turbo charged, inter-cooled diesel engines.
Port Engine Serial Number 45506044 Hours 1820.0
Starboards Engine Serial Number 45503104 Hours 1852.3
Upon inspection, all water-cooling intake and engine exhaust hoses appear to be properly connected and in like new condition. Hot water is provided by an engine heat exchanger with 120v electrical support. All raw water sea valves for machinery on board the vessel are properly fitted and in good working order.
Outward appearance of the engines is good, fuel lines, controls, linkage and attachments are all in good condition and in working order. All electrical connections are clean, well insulated and in good condition. Piping, fuel filters and flexible hoses from the fuel system are in good order.
The bilge areas are clean and free of debris and pumped by one 1500 gph and three 1000 GPH Rule Pumps.
A Westerbeke Model BTDA 12.4 Kw generator enclosed in a sound shield is installed to provide 120/240 volt AC power. The generator has 890.0 hours total time. AC power is also supplied from a 2500 watt inverter and a 30 amp shore power connection available from three with three separate inlet positions
The boat has six heavy-duty marine grade 12-volt/DC batteries serving both engines and generator starting together with the domestic load.
The vessel operates on a two line DC system and three line AC systems. Upon inspection, where visible, all wiring, connections and insulation is in good condition and properly wired to ABYC recommendations.
Breakers for both the DC and AC circuits are located on a panel in a cabinet in the Pilothouse and consist of:
12 Volt DC System
Waste Discharge Pump System
DC master Switch
Horn
E/R Blower
Fwd bilge pump
Midships bilge pump
Aft bilge pump
Navigation/Anchor lights
Port wiper
Center wiper
Stbd wiper
Windshield defog/wash
Radar
Autopilot
Depth sounder
Electronics
Ignition master
Searchlight
E/R lights
Panel lights
Salon lights
Galley lights
Pilothouse lights
Master stateroom lights
Stateroom lights
Head lights
Passageway lights
External lights
Stereo
TV/VCR
Head blower
Battery Selector
Wash down pump
Fwd toilet pump
Aft toilet pump
Holding tank discharge
Tank monitor
Water pressure pump
Shower pump sump
Refrigerator
Trim Tabs
Accessory 1
Accessory 2
Accessory 3
Accessory 4
Tub sump pump
FW Tank Level Gauge
Black Water Tank Monitor system
120v AC System
The AC breaker panel is located alongside the DC panel and has an AC volt meter plus individual master breakers, ammeters and polarity indicators for the generator, shore power and inverter supply systems which protect the following circuits:
Water heater
Trash compactor
Battery charger
Salon receptacles
Galley receptacles
Ice maker
Blender
Accessory 1
Accessory 2
Range
Refrigerator
Master stateroom receptacles
Aft stateroom receptacles
Microwave
Central vacuum
Washer /dryer
Accessory 3
Accessory 4
Air conditioning Salon
Air conditioning
Pilothouse
Air conditioning Staterooms
Air conditioning relay
Heater 1
Heater 2
Heater 3
Heater 4
Accessory 5
The generator voltmeter, oil pressure and temperature gauges are also fitted into the electrical breaker panels together with engine hour meters for both engines and the generator.
Heating and Ventilation
The vessel is fitted with three, MarineAir/Dometic 16,000 BTU air conditioners that supply air conditioning to the Pilothouse, Salon and Lower Deck accommodation. Each station has an independent thermostat and controls. Heating is supplied by four electric heaters when operating with the generator or alongside shore power.
The vessel is fitted with a central vacuum system and a washer/dryer.
Steering System
Dual station steering is achieved by a Hynautic hydraulic system with the pressure/reservoir tank located in the center lazarette aft of the generator. Where visible, no leaks or damage were noted and the system is working correctly.
Ground Tackle
The main anchor is a Delta Plow with 100 feet of galvanized calibrated chain and 250 feet of 5/8" rope rode hauled by a Muir Cougar windlass. A Fortress FX 37 anchor with 35 feet of galvanized calibrated chain and 150 feet of 5/8" rope rode is carried as a spare anchor together with a lighter Fortress FX 23 kedge anchor with rope rode.
The main anchor is fitted on the bow roller with the spare stowed in the foredeck anchor locker and the kedge anchor is stowed in the starboard lazarette.
During the winter layup, the vessel is stored under a custom made heavy duty cover.
Safety Equipment
The Owner is advised to ensure that all safety equipment including fire extinguishers required by Transport Canada regulations will be on board the boat and easily accessible prior to launching and operation.
Auxiliary
The vessel has a 3 metre hard bottom Grand inflatable dinghy with a four stroke 8 hp Yamaha engine. The dinghy is launched and recovered by a dinghy davit located on the aft flying bridge deck and stowed in hocks on the fly bridge deck.
DEFECTS AND RECOMMENDATIONS
There are no defects in hull construction or equipment maintenance that would affect the integrity of the hull or seaworthiness of the vessel.
It is recommended that the Owner ensures that all sea cocks are free and working properly before proceeding to sea.
VALUATION  (by surveyor in May 2014 FOR VALUE IN Canada)
The subject vessel is in well above average condition for its age and is extremely well equipped.
The Bayliner 4788 is the third largest model motor yacht built by Bayliner and the series was discontinued in 2002 to be re-introduced as much higher priced Meridians.
Presently, there are five Bayliner 4788's for sale in North America as follows:
1999 Model in San Diego, CA asking $249,000 USD
1997 Model in La Conner, WA asking $235,000 USD
2000 Model in Alameda, CA asking $199,000 USD
2000 Model in Wilmington, NC asking $179,000USD
1998 Model in Solomon's, MD asking $139,000 USD (distress sale)
It is this surveyors' opinion that, as equipped, a fair market value for the subject vessel is
TWO HUNDRED AND TWENTY FIVE THOUSAND ($225,000.00) DOLLARS
U.S. FUNDS
CERTIFICATION
I certify that, to the best of my knowledge and belief: that the statements of fact contained in this report are true and correct. The opinions, and conclusions contained in this report are my personal, unbiased professional opinions, and conclusions. I have no present or prospective interest in the vessel that is the subject of this report, and I have no personal interest or bias with respect to the parties involved.
This report is submitted without prejudice and for the benefit of whom it may concern.
Dated at Halifax, Nova Scotia this 19th day of May, 2014
_______________________________________
, Master Mariner
ATTENDING SURVEYOR
2015 UPGRADES:
ENGINE ROOM and GENERATOR PHOTOS:
DISCLAIMER:
Particulars are believed to be correct but not guaranteed, but damn if there's not enough photos and information here for you to make a educated purchase decision isn't it?
There-that's my disclaimer.