47′ Bayliner 4788 2001 LLC OFFERs
Specifications:
Price:

$ n/a

Location:

Indiantown Florida

Year:

2001

Length:

47

Boat Type:

Power
Fuel:

Diesel

Engines:

n/a

Make:

Bayliner

Model:

4788 Pilohhouse MY

Boat Name:

Hokule'a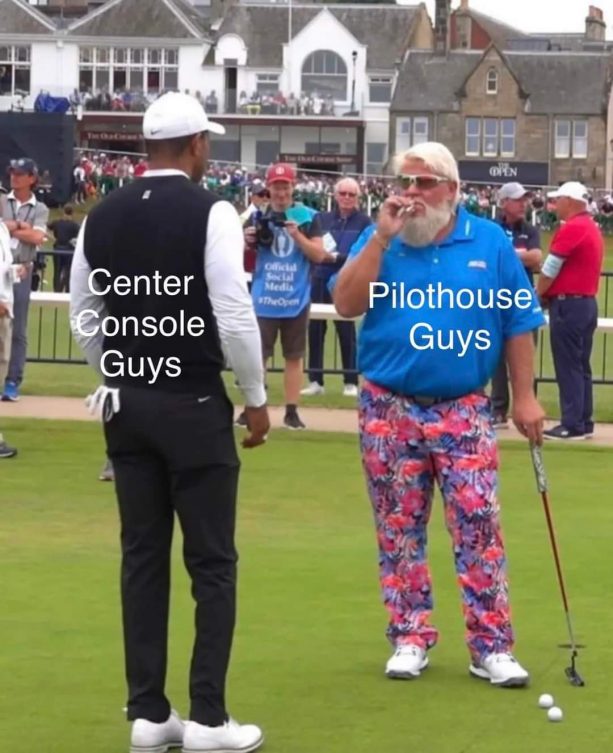 This vessel is now out of the water in Indiantown Florida. She made it from N. Palm Beach under her own power with no issues. It's in ownership of a fully transferable LLC, which has substantial tax and liability value.
contact the owner direct at 305-803-5151
Provenance: She was bought new from Boatarama (Miami, Fl) in 2001. In 2005 I sold her (over $300k) from the original owner in Palm Coast Florida to her second owner who took her to Maryland (where she was kept year round out-of-the water IN a climate controlled barn), and then to her current owner 11/14 in Jacksonville, Florida.for $160k.
| | | | | | | | |
| --- | --- | --- | --- | --- | --- | --- | --- |
| 47′ | Bayliner | 2001 | Ask $229,000 | (03/17) | Sold $205,000 | (06/17) | NC, USA |
The two North Carolina boats (above and below) are the same boat, but since being sold in 6/15 she did the loop, The most recent seller had $59k in receipts for upgrades for 2016/2017, then replaced both turbos per (5/17) survey recommendations to end up selling for the exact same price as when he purchased her. Strong money-but it's all right there in the receipts as to why.
| | | | | | | | |
| --- | --- | --- | --- | --- | --- | --- | --- |
| 47′ | Bayliner | 2001 | $229,000 | (01/15) | Sold $205,000 | (06/15) | NC, US |
| | | | | | | | |
| --- | --- | --- | --- | --- | --- | --- | --- |
| 47′ | Bayliner | 2001 | Ask $180,000 | (09/15) | Sold $130,000 | (07/16) (needed two new engines) | FL, USA |
| | | | | | | |
| --- | --- | --- | --- | --- | --- | --- |
| 47′ | Bayliner | 2001 | Ask $199,000 | (01/16) | Sold $185,000 | (07/16)   Fl ,USA |
| | | | | | | | |
| --- | --- | --- | --- | --- | --- | --- | --- |
| 47′ | Bayliner | 2001 | Ask $219,000 | (05/15) | Sold $205,000 | (05/16) Included two (2) new engines | TN, USA |
LLC for sale. The sole asset is a 2001 Bayliner 4788. There are no debts, or other assets.
Low hours, Bow Thruster,  4kw inverter, Three (3) E-120's.
Documented clean provenance since new. Never damaged. NEVER SMOKED IN.  Despite having Hawaii on her transom she's spent her whole life between Florida and Maryland.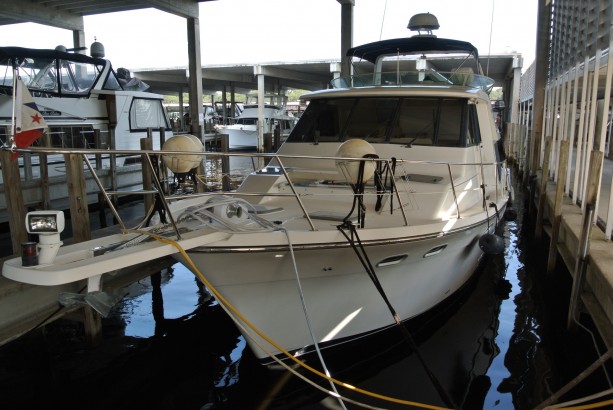 ALL WORK DONE September/October 2014-  bottom paint, the entire boat waxed and buffed. Brand new 12v/110v  Norcold Refrigerator/ Freezer and two (2) complete new air conditioners installed.  She's looking GOOD.  Full buyers  hull and engine surveys (all good of course) Oct 2015.
ALL PHOTOS and comments from October 2014
1. MATERIAL VALUE: this vessel is the sole asset of a Delaware Corporation which is being sold in it's entirety.  No sales tax is due  anywhere as you aren't buying the boat-your buying 100% of she shares of the corporation which has no liabilities or debt.  
2.  NEVER DAMAGED -The others out on the market?
3  LOW hours =1090 original hours on her 330 hp Cummins diesel engines. 890.1 hours on her 8kw Generator.
4.  BOW thruster.
5.  Three (3) Raymarine  E-120s.
6.  Trac Vision satellite TV.
7.  4 kw Xantrex sine wave INVERTER (new in 2006)
8.  Fresh bottom paint 9/14.  Fresh wax of the entire boat- 9/14.  NEW refrigerator ,  two (2)  new Air conditioners 9/14  with warranties.   All work professionally done by Lambs Yacht Center to the tune of $20k.
8.  2001 model which has the highest resale values due to the light colored counter tops.
9.  She was in a heated enclosed "high and dry" on the Chesapeake since 2006, when not being used, and from November of 2013 til November 19th 2015- she was in freshwater on the St. Johns River.
10.   Now located in North Palm Beach Florida as her owner purchased a home there in 2014. 
ALL photos are from 11/14 when she was purchased. 
LOA: 54 ft 0 in                            LOD: 47′                                        Beam: 14′ 11       ″            Draft: 3'04″                       Bridge Clearance:  22′                        Dry weight: 29,990lbs
Fuel: 444 gallons                      Water: 200 gallons                           Holding:  48 gallons
Cummins 330hp  Diesel Engines (761.9 hours),        Westerbeke  8kw  generator (885.1)
Three (3) Marine Air conditioners with reverse cycle heat. Four (4) electric 110 v baseboard heaters with individual thermostats.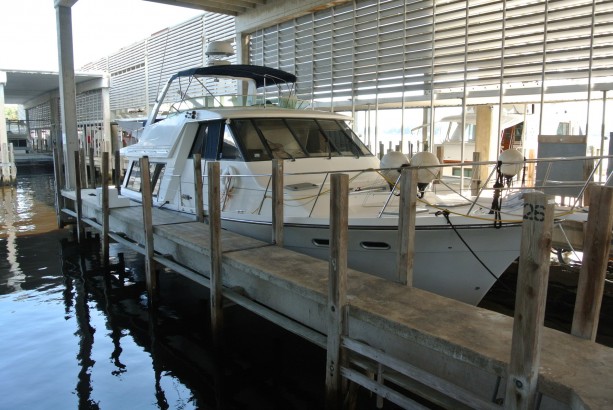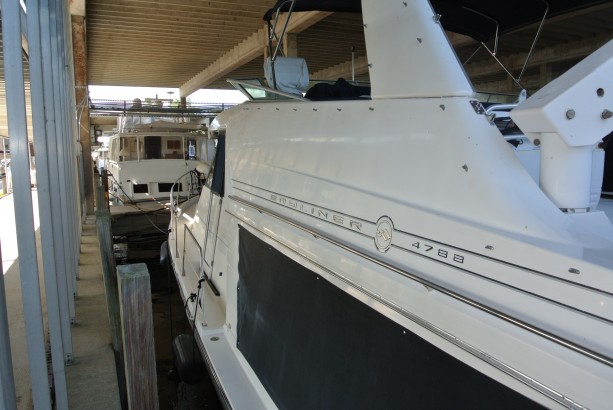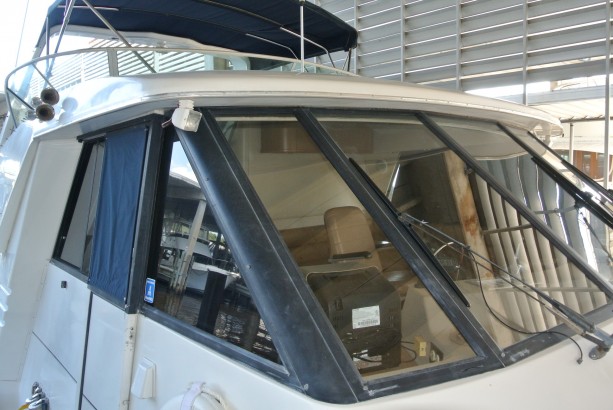 Galley: New (10/14) Norcold Refrigerator/Freezer. Princess electric stove top with oven. Trash compactor, double sink, ample storage. Pressure hot and cold water.
Wet bar with icemaker and sink.  Bottle storage behind the double doors. Kurig Coffeemaker.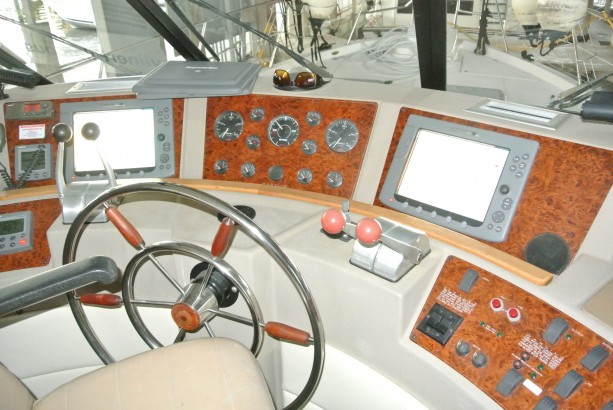 Lower helm:  Two (2) Raymarine E-120's (radar/gps/plotter, camera monitors).  Bow thruster control, Raytheon Auto-pilot, Raytheon Depth, Raytheon VHF. Two AC outlets, and two defroster fans.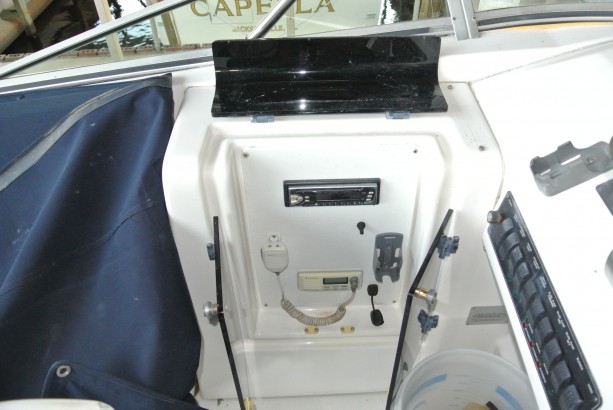 Upper Helm;  Raytheon E-120 Radar/Gps/Plotter/camera monitor.  Raymarine St 60 rudder angle indicator, Raytheon St 60 depth, Standard Horizon depth, VHF radio, Bow thruster control, Remote spotlight control, CD/Stereo, autopilot remote.
Her original full flybridge enclosure is included, but it's in less than average condition from being in storage so long, and should be considered as value only as a template for a new one. Her canvas covers are original and should be replaced since their now 14 years old. Nothing like fresh canvas to 'pop' a boat off.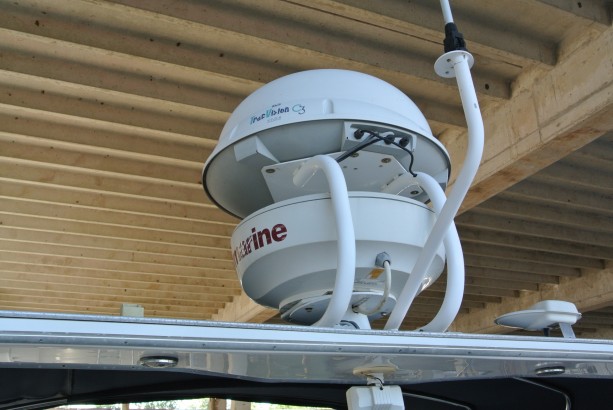 Two rebuilt Cummins raw water pumps in their boxes- are included as spares.
RAYMARINE E-120
The E120 display will connect to and display a variety of information from numerous sources. Several radar options are available, from a 2Kw 18-inch dome style up to units with a 6-foot open array antenna and 10Kw of power.
The Raymarine E120 has been around for several years
and remains a mainstay in the recreational market.
It will also display data from a black box sounder, the Raystar GPS module, an AIS receiver, and a Sirius weather and radio receiver.
This Raymarine chartplotter communicates with other devices using the Raymarine SeaTalk network, NMEA 0183, and NMEA 2000. The E120 can use Navionics Silver, Gold, Platinum, or Platinum Plus cartography.
The E120 will use a substantial chunk of panel space and it hefty enough that is should be flush mounted. It measures 14 inches wide, 10.4 inches high, and 6.1 inches deep. Display screen measurements are 9.7 inches wide and 7.3 inches high, with a diagonal measurement of 12.4 inches. Resolution is 800 x 600 pixels.
Screen Size and Viewability
We found the E120 performed exceptionally well in our daylight viewability review and we gave it an excellent rating. This Raymarine chartplotter screen was bright and sharp when viewed straight on without polarized sunglasses. We noticed little to no screen darkening when viewing the screen from the side, even at severe angles. When we donned our polarized sunglasses no screen darkening was apparent when looked at the display from straight on. At severe side angles with our polarized sunglasses on we did experience a moderate amount of darkening.
The Raymarine E120 screen brightness controls are accessed with a momentary press of the on/off button. This triggers the onscreen appearance of bar graph showing the current level of brightness and a soft key with a day/night palette selection. Screen backlight level adjustments can be quickly made in up to 64 steps with the rotary enter knob. Toggling the soft key changes between the day and night palette. A press of the OK button confirms your choice. The color change between the day and night palette is minor on the E120.
As our evaluations progressed to night viewing we dimmed the E120 in the day setting first, and then as it got darker we switched to the night palette. The very lowest brightness levels in either day or night mode will make the screen go totally black. With the night palette selected we noticed from side angles the screen darkens, as the angle increases the condition worsens, and at steep angles the screen becomes unreadable. Keypad lighting on the E120 is linked to the screen brightness level and not separately adjustable. We rated night viewability good.
Operation
We tested the Raymarine E120 with software version 3.31 and found it very intuitive—there is little that requires cracking open the inch thick manual. This unit makes good use of its 5 soft keys and numerous dedicated pushbuttons. Software update 4.29 became available as we were conducting our testing.
Each press of the PAGE button toggles between selected split screen combinations. Holding it down brings you to the select page set menu. Here you can pick from a variety pre-configured pages or build your own custom page set. Up to 4 windows and a data bar can be displayed simultaneously.
Hitting and holding the MOB key takes the unit into man overboard mode. You'll hear an audible alarm and see the chart switch to minimum range. Data boxes will show range and bearing to the man overboard position. If you were not displaying the chart when you hit the MOB button you will only get man overboard position from the data boxes. To turn off the man overboard mode and silence the alarm press and hold the MOB key again.
Waypoints and Routes
A waypoint can be saved at the present position with one push of the WPTS key or you can use a soft key function to save at the cursor, ship position, at a lat/long, or access the waypoint list. Waypoint lists can be set up in separate groups for quicker access based on user criteria.
The waypoint list includes the group name, lat/long, bearing/distance, a 16-character name, and a 32-character comment for each waypoint. That is a bunch of information to store with each of up to 1200 waypoints. All this should make obscure waypoints in a large list much easier to identify and use. We rated the plotter interface good on the Raymarine E120. If you added the optional keypad to the E120 we'd rate the interface excellent.
The route menu is accessed with two soft key pushes. Once there you can build a route onscreen or by using the waypoint list. To build onscreen you simply move the cursor to the desired point then hit the "place waypoint" soft key. You can continue this out to 50 waypoints and store as many as 150 routes.
Odds and Ends
Chart redraws on the E120 were fast, taking less than a second to fully redraw the chart after a map range change. Minimum range can be set as low as 1/32 of a mile.
Up to 4 data sources can be displayed in an individual window simultaneously with a data strip. The E120 has an easily accessible ruler to measure the bearing and distance to any point of between a pair of user selected points.
The E120 carries a 2-year warranty.
Final Thoughts
We like the big screen and intuitive software on the Raymarine E 120 chart plotter. This unit has an IPX6 waterproof rating, meaning it can be subjected to a direct stream of water with no ill effects. You'll also need to add a Ray 125 GPS sensor
Disclaimer
Blake Davis Yacht Brokerage Inc. provides the yachts for sale vessel description information contained herein as a convenience to the website user and does not in any manner warrant or otherwise guarantee the accuracy of such information. Some featured yachts for sale vessels are not for sale to U. S. citizens while the yachts in U.S. waters. Buyer assumes responsibility to verify all speeds, capacities, consumption's and other measurements contained herein and otherwise provided and agrees to instruct his agent/s to confirm such details prior to purchase. Vessels are, prior to sale, subject to price and inventory changes and withdrawal from market without notice.