45′ Meridian 459's– Whole lot of "bang for the buck"
Specifications:
Price:

$ n/a

Location:

Florida

Year:

n/a

Length:

45

Boat Type:

Power
Fuel:

Diesel

Engines:

n/a

Make:

n/a

Model:

n/a

Boat Name:

n/a
These have to be the biggest 45′ boats ever built. When you're on one, you can't believe they're only 45′. Plenty of different levels for privacy. Great staterooms, cockpit, low maintenance, and they built enough of them, that you can still find good one's. These boats cost $800k new, but are trading under $200k on the East Coast, and $270k on the West.
These are very popular boats and sell well. I've had several clients do "The Loop" with their 459's before shipping home to New Zealand.  The last two I sold, one went to Perth Australia and one went to Tasmania on her bottom from Newcastle!. Look at THAT on a chart!   These boats are very popular due to the bang for the buck, and the enormous interior volume, features and quite reasonable prices. Pretty? NO. Functional? YES.  Are you buying a boat for others to enjoy looking at, or you buying a boat for you to enjoy life on?  Big difference.  I also have pretty boats for sale if that's what you need. I love pretty boats too!
ALL OF THE VESSELS BELOW are now sold. I left the photos so you can see what a 459 looks like. If you wish for me to find you the best one, I would be happy to do so.
Without a doubt the most interior volume of any 45′ yacht ever built. These 459's are pretty "trick" boats in all the usable space and features they have in such a small footprint. They have a quite large cockpit which allows one to fish, dive. or just lounge, which has direct access into the owners stateroom. A few steps above the cockpit they have a covered deck with a wetbar and sink, and then a few steps above that they have the very large flybridge which has more seating and a refrigerator.  These boats have two good sized private staterooms, a huge salon, a nice sized galley, and two nice sized heads.
. 2007 with QSB electronic (no smoke!! And QUIET, plus other "tricks") 380hp diesels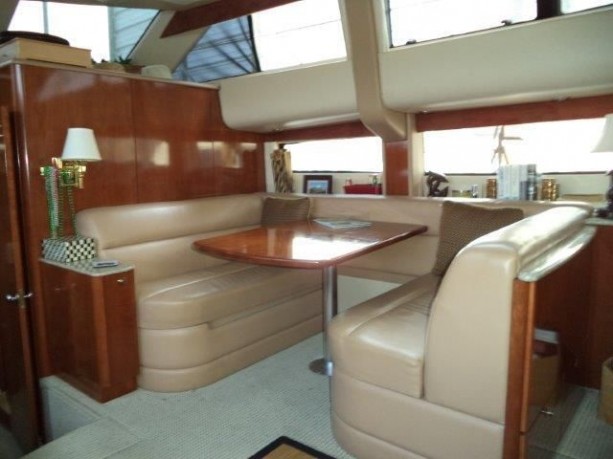 Rare dinette option.
But WAIT- there's more! These aren't just dockside condo yachts, they do 'get up and go'. I've sold two to "Down Under" -one went to Perth Australia and the other went to Tasmania ON HER BOTTOM from Newcastle Australia. That's quite a trip down the Australian Coast and then across the Tasmanian Strait, one of the roughest bodies of water on the planet!
It's just rare to have some available in Florida.  The 459 I sent to Perth had to be sourced from up the Hudson River.
Meridian Yachts 459 Motoryacht (2009-) Specifications
Length Overall
47′ 8"
14.5 m
Dry Weight
30,700 lbs
13,925 kg
Beam
14′ 4"
4.4 m
Tested Weight
N/A
Draft
3′ 10"
1.2 m
Fuel Cap
330 gal.
1,249 L
Deadrise/Transom
N/A
Water Cap
90 gal.
341 L
Max Headroom
6′ 7"
2.01 m
Bridge Clearance
14′ 4"
4.4 m

Prices, features, designs, and equipment are subject to change. Please see your local dealer or visit the builder's website for the latest information available on

EXCELLENT VIDEO OF THESE BOATS ON BOATTEST.COM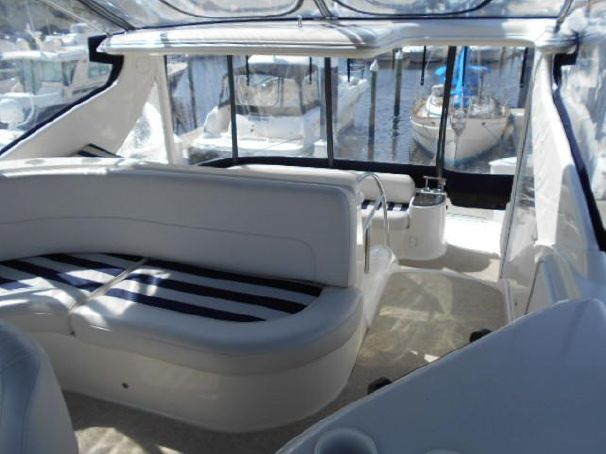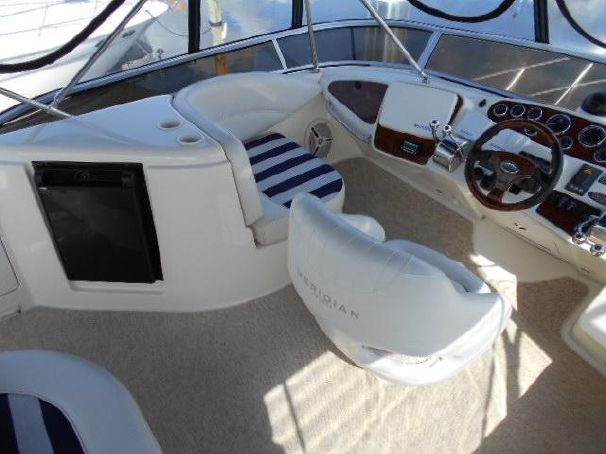 Blake Davis Yacht Brokerage Inc. provides the yachts for sale vessel description information contained herein as a convenience to the website user and does not in any manner warrant or otherwise guarantee the accuracy of such information. Some featured yachts for sale vessels are not for sale to U. S. citizens while the yachts in U.S. waters. Buyer assumes responsibility to verify all speeds, capacities, consumption's and other measurements contained herein and otherwise provided and agrees to instruct his agent/s to confirm such details prior to purchase. Vessels are, prior to sale, subject to price and inventory changes and withdrawal from market without notice.