Artwork "We don't rent pigs"
---
Before moving to Miami via New Orleans and Tampa in 1983 I made a quite decent living as both a artist and as a Dealer of Fine Photography. Turned out rich people in Miami didn't buy art, as their walls were all glass so they could see the beautiful water- they bought boats. So my boating hobby became my profession.
I used to bounce between New York, New Orleans, Atlanta, and San Francisco buying and selling Fine Photography, and exhibiting my works.
I sure wish I kept more of those photos instead of selling them, but that's what paid the bills. I remember selling Ansel Adams for $2k, that are now worth between $5k-$120k. Ouch. I still have a huge collection of Gary Aro Ruble "Power Flicks" that sold for $275.00 -$900.00 each from 1978-1994. Have no clue their value now as he's totally faded off the radar. Need any?
Now here in August 2019, 66 yro and basically retired – I've switched it back up.
Because here on the Treasure Coast Highwayman paintings are like bit coin, classic cars, or gold in that people with money collect them. They're easy to liquidate tax free because of a healthy auction, and dealer scene with documented (auction results going back a decade or more are easily found online) cash values. But mainly it's because they're BEAUTIFUL, still quite affordable, and it certainly doesn't hurt ones eyes to have these original painting hanging on your walls as they appreciate. If you loved the REAL Florida, then these are it's last documentations before developers paved it over.
You can watch YouTube to learn the history of the Florida Highwaymen and the story of their uniqueness that makes them collectible.
Charles 'Chico' Seymour Wheeler Highwayman b. 1946- July 12, 2019.
the most unique of the 26     His paintings have gone up five fold in value since his death last month. I have five paintings of his for sale.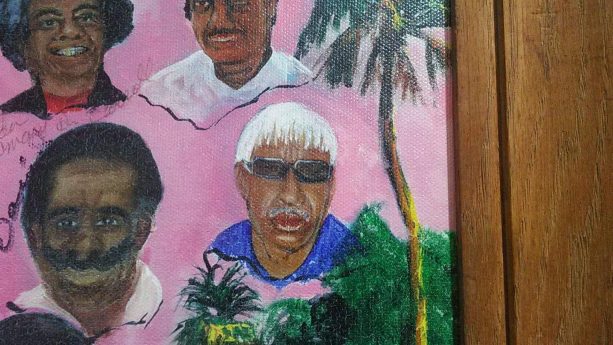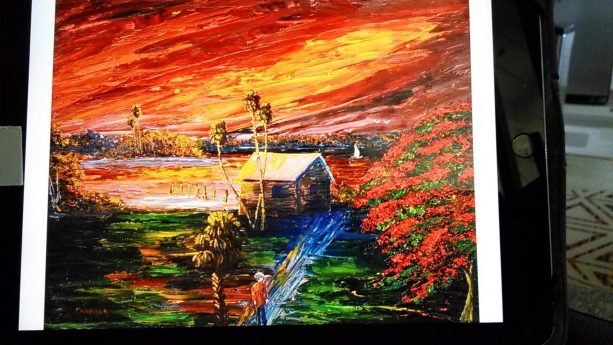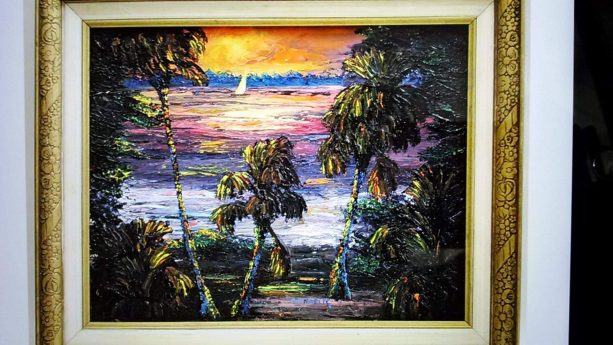 Livingston 'Castro' Roberts Highwayman 1941-2004.
Al 'Blood' Black b. 1947.
There's some great videos of him on YouTube.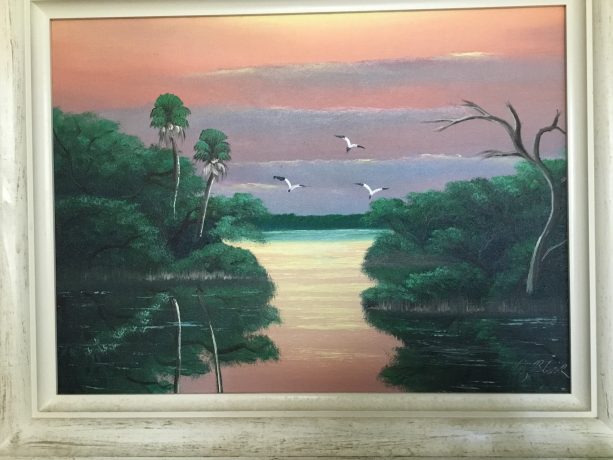 Chico's studio in Ft. Pierce.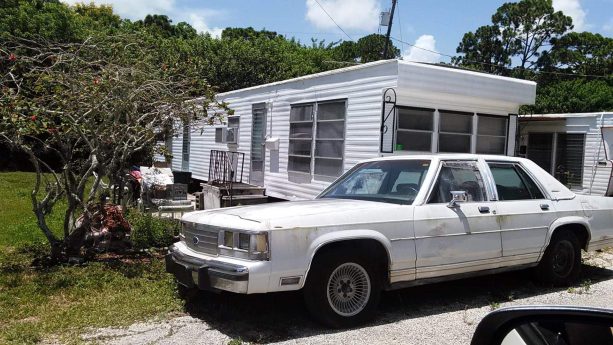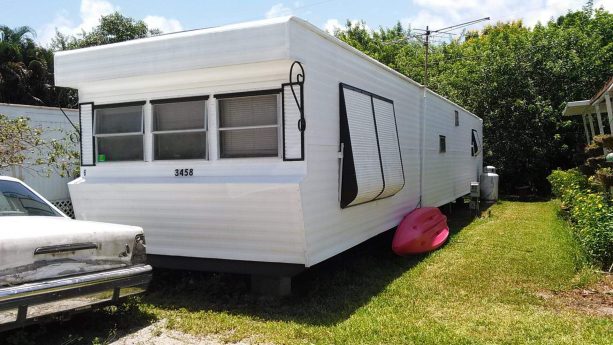 Chico was extremely private, he gave no information about himself when inducted into the Florida Artists Hall of Fame. You will find no info about him in any of the Highwayman books, much less where he lived. I tracked him down after looking for weeks- on just a clue of "I hear he lives in an old trailer in a park of old white people in the woods down in Ft. Pierce", and found it literally a half mile due west of my home by going up a dirt driveway through a narrow hole in the brush. Voila! This is where he lived and painted all those beautiful paintings over the decades. His car hadn't moved in a long time. The neighbor lady who owns that pink kayak leaning next to his trailer came out and said: "really nice guy, who just stayed inside all the time, smoking cigarettes, and painting. I don't think his family even knew anything about him ". She also mentioned that he had given her paintings  over the years. I told her that they're worth some money now. He was buried in a veterans cemetery in West Palm Beach, so obviously he served. Yet another layer of the unknown. His art does the talking.
Sylvester Wells Highwayman b. 1938
R.A. McLendon Highwayman b. 1932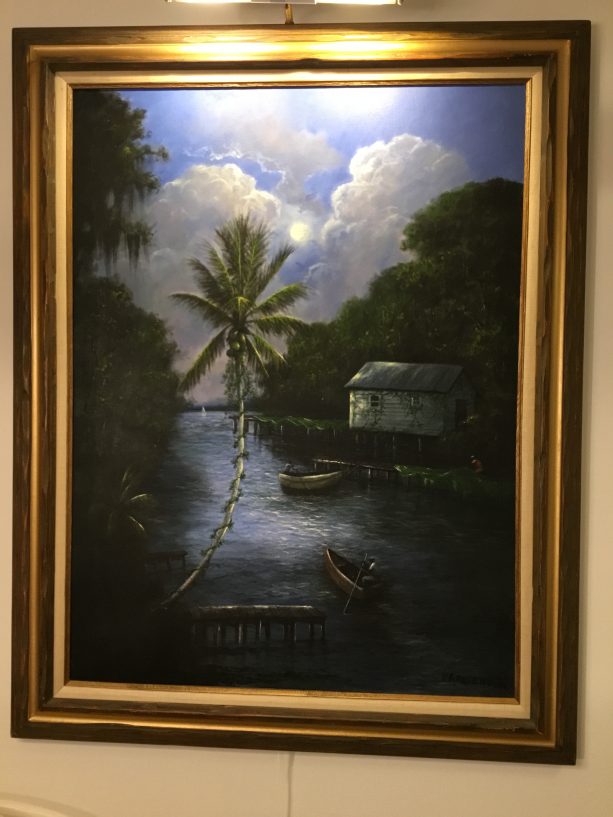 Mike Sears b. 1962
2nd generation artist, but in reality is closer to the spirit of the original painters in that he still lives in Gifford, where many of the originals lived, and goes out across the state to sell his paintings from the back of his car to make a living. Once you factor in our currency depreciation, he's probably selling for lower prices than the original artists now known as the Highwaymen. Two hundred dollars in 2019 money is less than $25.00 in 1969. I give him props, because art supplies today are crazy expensive!  I've had old snobby rich white women in Vero Beach (there's a place I totally DON'T "get") who're are supposed to be dealers tell me "he's too pushy". Well guess what Missy, you gotta be "pushy" to close a sale on a cold call!  Anybody collecting because of "the Highwayman story"- then Mike Sears cannot be overlooked. His palette is rather "cotton candy ish", perhaps his painting lack the depth of the other Gifford masters of yore, but they ain't bad. You can buy his work already framed from $120.00 -$500.00 all day long.
Large 24" x 36" sized (and up) can be had from $450.00 depending on the quality of the frames.
Mary Ann Carroll b. 1940
Blake E. Davis Jr. b. 1952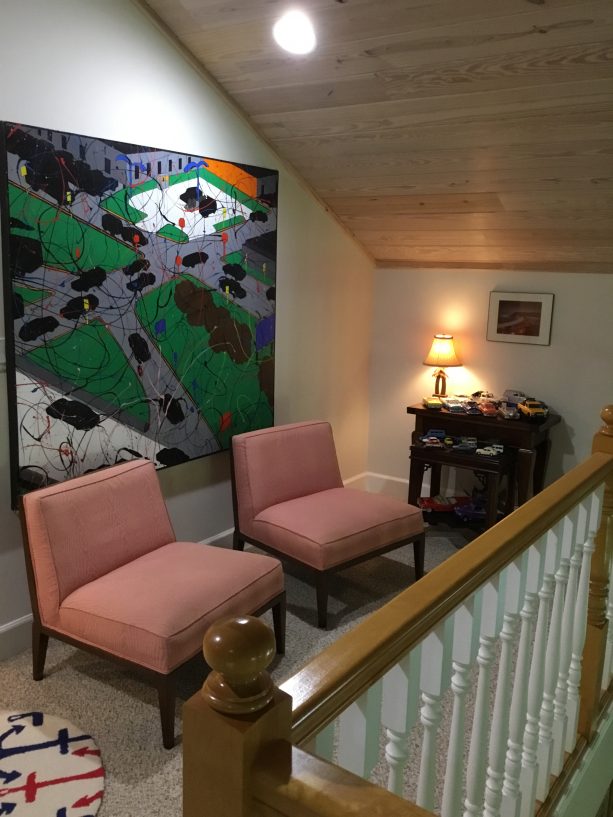 Which spun me off in a total different direction, a direction that brought critical acclaim, exhibitions, and sales which led to classic cars, home purchases, and sailboats, which directly led to me becoming a licensed Captain and a Yacht Broker in 1984.
Which led to this series called "The Methods and Means of Proof" which sold well for years up til I moved to Miami, where I had the fame, the best galleries (Gallery 99 in Bay Harbor, and Virginia Miller in Coral Gables), but not the sales of Tampa, Atlanta, and New Orleans.
This below is the original drawing of what was to be the poster for a tv show in Tampa that was to feature me in my prime.. My then 2nd wife, the "mad Italian" put an end to that when she discovered me having cocktails with the rather lovely producer in a local jazz club.. Did y'all know that Italian women are great at making scenes in public?
These are the works I still have, that were easy to take a photo with my tablet. I would have to dig into my old photographs to find images of the large paintings I sold. Not going to do it.