Changes in Latitudes and Attitudes
---
---
The pilothouse yachts that I specialized in for 35 years haven't been built since 2010. Time has reduced not only their condition and availability, but also their demand, so instead of tilting at windmills all day  I'm spending my time either mountain biking, lifting weights, or with my original love and passion: Art- which usually goes up in value over time, and unlike  machines- the care and feeding is simply a nail in the wall.
These are mostly all local (Okeechobee-Ft.Pierce-Vero Beach) Artists, sadly most have passed away.
There's so many lesser Demps out there, one can forget that he's done some very nice painting. I love how he captures the motion of the wind.
WILLIE DANIELS 1951 – Sept 19th, 2021
Willie and Johnny were brothers.
Starting in the mid seventies I used to bounce between New York, New Orleans, Atlanta, and San Francisco buying and selling Fine Photography, and exhibiting my works, now it's Highwayman Painting, and the only bouncing I'm doing is from Stuart to Vero Beach.
James Gibson 1928-2017.
Here on the Treasure Coast, Highwayman paintings are like BitCoin, classic cars, or gold in that people collect and trade them because they're easy to liquidate (because of the healthy auction and dealer scene with documented auction results going back a decade or more) but mainly it's because they're BEAUTIFUL, still quite affordable, and it certainly doesn't hurt ones eyes to have these original painting hanging on your walls as they appreciate. If you loved Florida before so much was paved over, then these paintings are the visual connections to that time.
You can watch YouTube to learn the history of the Florida Highwaymen and the story of their uniqueness that makes them so collectible.
Charles 'Chico' Seymour Wheeler Highwayman b. 1946- July 12, 2019.
the most unique of the 26 artists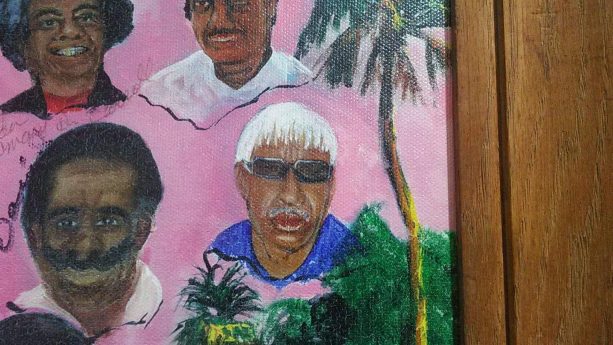 Chico Wheeler
Chico Wheeler. Heavy texture.
Livingston 'Castro' Roberts Highwayman 1941-2004.
Known for realism, and detail.
Al 'Blood' Black b. 1947.
There's some great videos of him on YouTube. He's still alive and is a "painting MACHINE as he has bills to pay!" No shortage of his works out there
Chico's studio in Ft. Pierce.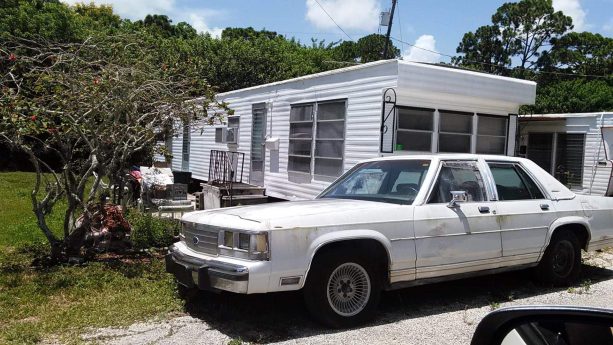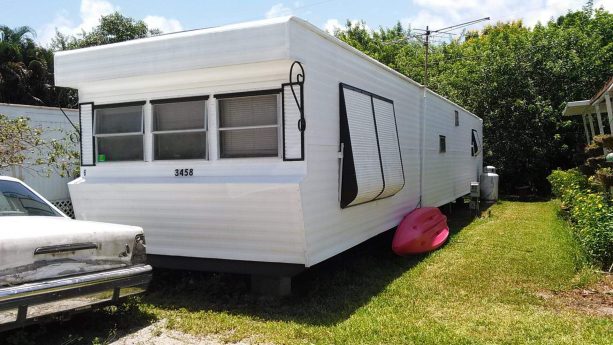 Chico was extremely private, he gave no information about himself when inducted into the Florida Artists Hall of Fame. You will find no info about him in any of the Highwayman books, much less where he lived. I tracked him down after looking for weeks- on just a clue of "he lives in a real old trailer in a very old trailer park in Ft. Pierce off of US1".  It took weeks to find him because it's quite amazing how many old trailer parks there are here.
This is where he lived and painted. He was quite prolific. He just stayed inside, smoked cigarettes, and painted. He's buried in the veterans cemetery in West Palm Beach, so obviously he was a veteran too. Yet more mystery behind the most original of all the Florida Highwaymen.
Sylvester Wells Highwayman b. 1938
R.A. McLendon Highwayman b. 1932
Tracy Newton
Mike Sears b. 1962
2nd generation artist, but in reality is close to the spirit of the original painters in that he still lives in Gifford, where many of the originals lived. He goes out across the state to sell his paintings from the back of his car to make a living. Once you factor in our currency depreciation, he's probably selling for lower prices now than the original artists, only now known as the Highwaymen back in the sixties. His work is rather "cotton candyish". If he would focus more on quality instead of quantity he would be collectible. Now it's more novelty decorations. I like the guy, he's a character, and I like characters.
Sold
You can find his paintings all day long for cheap. SOLD
---
---
Mary Ann Carroll b. 1940. ( passed away December 3rd 2019) The only female Highwayman.
My wife liked these old French artists, I rather liked the Italian dudes pastel drawings of big titted women, which I gifted to two young workers as a tip.
NORMAN WRIGHT "the 27th Highwayman"
He's one of my favorites. He's my age, and is still plugging away.
All these paintings look so much better in person.

Blake E. Davis Jr. b. 1952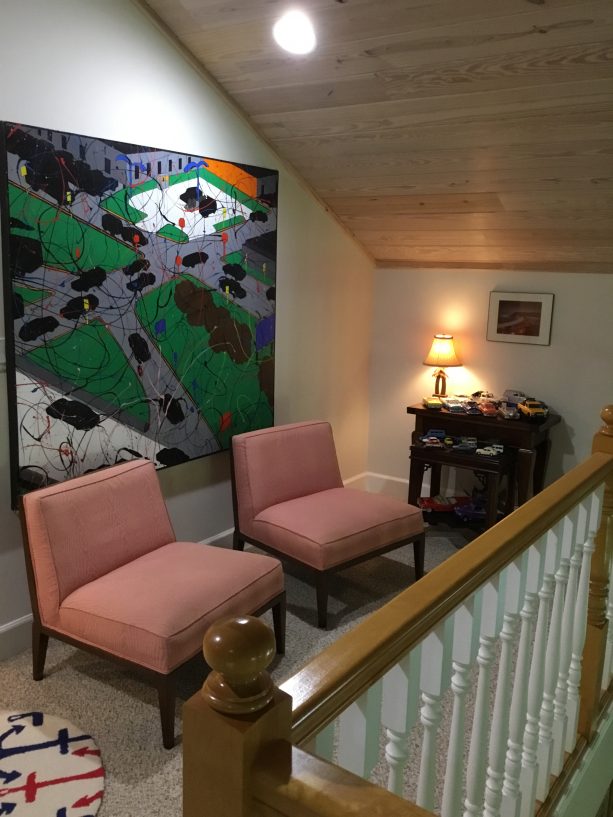 Which spun me off in a total different direction, a direction that brought critical acclaim, exhibitions, and sales which led to classic cars, home purchases, and sailboats, which directly led to me becoming a licensed Captain and a Yacht Broker in 1984.
Which led to this series called "The Methods and Means of Proof" which sold well for years up til I moved to Miami, where I had the fame, the best galleries (Gallery 99 in Bay Harbor, and Virginia Miller in Coral Gables), but not the sales of Tampa, Atlanta, and New Orleans. That said, I felt like a fool wasting my time inside making art, when it was so beautiful right outside my door on Hibiscus Island. So bought a 38' sailboat, got my captains license, and started a charter business.
This below is the original drawing of what was to be the poster for a tv show in Tampa that was to feature me in my prime.. My then 2nd wife, the "mad Italian" put an end to that when she discovered me having cocktails with the rather lovely producer in a local jazz club.. Did y'all know that Italian women are great at making scenes in public?
I mentioned the 'mad Italian' earlier, well here she is with the future Captain Max.
These are the works I still have, that were easy to take a photo with my tablet. I would have to dig into my old photographs to find images of the large paintings I sold. Not going to do it.