About -Blake Davis Yacht Brokerage Inc.
Florida Yacht Brokers License # 32.  Established in 1984.    YES- 1984.   You can always get more money, but nobody get's more time.  Google Maps is correct in that the Miami office is closed, because as of 2014  I moved 130 miles north of Miami, 130 miles south of Daytona, and 130 miles from both  Ft. Myers, and St. Petersburg  to St. Lucie Village, which is a few miles north of Ft. Pierce on the Indian River.  Dockage rates in Miami became insane IF it could be found at all.  I don't know (nor care) why Google Maps hasn't updated my location because I've always been by appointment only, and there's gates.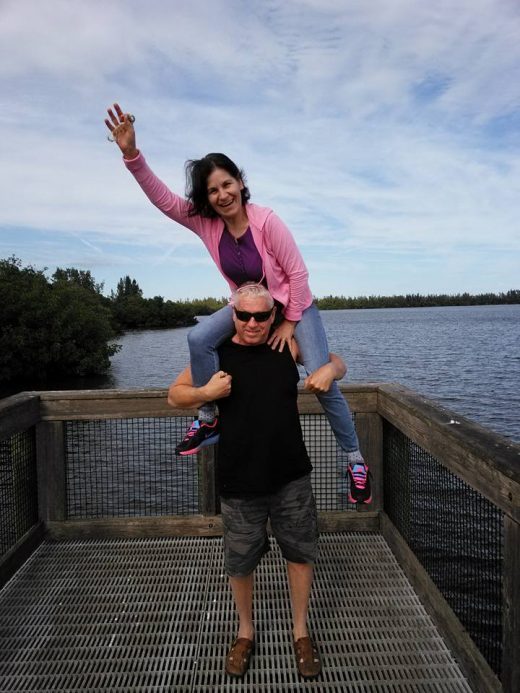 PLEASE FIRST READ THE TESTIMONIALS AT THE BOTTOM OF THE PAGE.  I have a link here on my site  "http://meridianpilothouse.com/some-of-my-print-ads-from-the-80s-to-mid-90s-long-live-the-internet/" -OLD print ads, Long Live the Internet" (to your right) where you can see pages of full page ads I used to run back when print was relevant. It's historically interesting because you can see the pricing of boats back when they were newer. I sold most all of those vessels. Combine those with the ALL the Bayliner and Meridian Pilothouse Yachts, that adds up to hundreds of of surveys and seatrials I've attended.  I know boats.
My business hours are still  9-6 Pacific Coast Time just like the print ads say.
.
WHY PILOTHOUSES?  because "I like the sun, but the sun doesn't like me".  You can't beat a pilothouse for beating the weather.
I started this business in Miami Florida in 1984 with a Captains license running charters on my own sailboats (Morgan 38′ and a OI 41′) under the name Blake Davis Yacht Charters and Brokerage. Ten years earlier at 21 yro I entered the professional boat world fresh out of college with a BFA (I guess I can always go back to slinging paint if this boat thing doesn't work out?) degree from the Atlanta College of Art, and Temple U., when I walked into a boat yard in New Orleans in 1974:"What do you know how to do?" the owner asked. "Nothing, I just graduated from college with an Art Degree " say's I. "Good, go paint that boat" say's the owner.
To reach the time clock  I had to walk through the air conditioned office where I would see guys sitting with their feet propped up on their desks reading magazines all day.   After several years working out in that hot humid brutal New Orleans weather fixing boats, and during the rare time I wasn't being yelled at by the owner, I asked him "who are those guys inside?"  His reply was "Yacht Brokers". I said " I want to do that!" – he said "come in tomorrow dressed like one and you can". I did, and the rest is history. I can attest that being on top of boats beats the hell out of being under them. Being in them and driving – even better.
In 1978 I  moved back to Florida, first selling new sailboats at dealerships in the Tampa Bay area, and Miami before striking out on my own in 1984.
I actually did a stint as the Sales Manager at Jones Yacht and Ship up the Miami River during the cocaine cowboys days.  Boy do I have stories to tell about those days.  Watch the movie- Cocaine Cowboys.  I only mention this as proof of my discretion.
By 1988 I was the East Coast dealer for the Taiwan manufacturer Lien Hwa (Hartman Palmer, LH Little Harbor, Vitesse, Pacific), with an office and a boat yard on Biscayne Blvd at Maule Lake in Miami, selling brand new Motor Yachts, all lined up behind a very popular restaurant/bar named Rum Runners. I think their motto was "where the smugglers congregate" because for years I watched regular smuggling transactions go down in broad daylight. Then out-of-the-blue along came the Luxury Tax that stopped yacht sales dead. While other brokers were literally committing suicide (they dipped into escrows and got caught) as a result of that economic decimation of the boat industry I bought a 50′ single diesel pilothouse houseboat and just went cruising for several years. You don't have to be a millionaire to live like one-you just need to know when to ZIG when others ZAG. .
I dropped the "charter" from my business name sometime along the way as I realized I didn't have the personality to entertain strangers on my boat. NO you can't smoke, NO you can't put that there. No I can't play guitar, and NO I don't wanna get high. Off the boat you go!     I'm not sure I have the personality to be a broker either, but none the less, here I am, and I'm not changing now.
WHY THE MERIDIAN, BAYLINER, and NAVIGATOR PILOTHOUSES?   The short answer is that they've always sold very well. They were great values new, and they're great values now.  I was introduced to them when a client requested I find him one.  After repeating the same stupid negative mantra as other brokers about Bayliners, he said "do you want to talk or sell a boat?"  Sell a boat please. I'm glad I opened my mind as it was an epiphany for me, as they flew through survey with no issues (back when they were newer) whereas the so called "quality boats" of the time- didn't.  I discovered that just because one brand of boats cost more than another, it didn't mean they were actually built any better.  Boat manufacturers are like watch and auto manufacturers in that they build products for different price points. It doesn't mean one is actually really better than another, or one holds it's values better than the other. In 2018 old VW Beetles bring more money than 2005 Mercedes Benz's so  "racing poodles"
I listed one pilothouse, sold it, then another, then another, then another,  then the owner of the South Florida Bayliner dealership (since 1959) discovered me and requested that I market his new 47′-57′ boats.  Later he became a Navigator dealer solely upon my recommendation after I had been given the royal tour of their factory by the chief engineer who showed me how they were built. Navigator did zero PR, or advertising which is why they're such an unknown to so many. I actually wrote the information sheets for his salesmen. Navigator almost made it through the recession, holding on longer than most other builders- building yachts through 2012. .
HOW ABOUT BOAT SHOWS?   I used to do boat shows- back when boat shows were relevant, which was a LONG time (talking 1978-1996) ago.  I used to even run full page ads (links to your right)  in magazines (remember those things that would stain your fingers?), but by the late nineties the internet had totally changed that paradigm. I was actually one of the first brokerages to use the internet, and was one of the first Brokerages on Yachtworld (back when it was free) to reach the savvy buyer who knew he no longer had to stand in line, take his shoes off, and be pestered by fat guys in khaki shorts every few feet just to see a yacht.  He could, from the comfort of his chair, with drink in hand- at his leisure look at all the boats available in the entire world, and BUY- without even having to put on pants.  I've sold boats for upwards of $900k to buyers solely via emails without even one phone conversation. The majority of the vessels I exported were never touched by their buyers til they arrived at it's destination.
Yes, the Internet was indeed a game changer, although it is a sword that can cut both ways. Today many buyers think they're experts because they have access to some information because they "Googled it", or worse yet, got it from total strangers on forums. Big difference in some and correct.  Again, I've been in the boat business since 1974. What have you been doing?  I'm not an expert in your business, so wouldn't dare 'pipe in' with advice and opinions on how to run your business, yet that's what Forums do.  IF you want facts pick up the phone and call the boat yards, the engine manufacturers, Yacht Delivery Captains. Heck, even most Yacht Designers will answer the phone.
Years ago during the 'Great Recession' I sold out ALL my inventory (mostly all exported to Canada, Australia, and New Zealand) with JUST THIS WEBSITE.
My clients who aren't referrals  come directly from my websites dedicated to Bayliner and Meridian pilothouses.
View from my Miami office for many years. .
In Ft. Pierce dockage is only $9.00 a foot at a NICE marina with a swimming pool,  a excellent restaurant. NO TRAFFIC, and everybody speaks English. My Mercedes convertibles are gone, and I'm now with the 'local program' and drive a truck, but still wear sandals, because-Florida.
Testimonials:
"I think your more a poet than a yacht broker, but I can't argue with your salesmanship" – "You don't often see Yacht Brokers who wear cowboy hats"
Gary Ziegler, 2004 Meridian 490 Florida. (sold without either a survey or seatrial to the first person I showed her to)
Blake was the selling Broker when I purchased my 4788. Not only did he help me throughout the purchase of the 4788, he also helped me sell my previous boat. In our pre-purchase discussions, I felt he gave me a truthful overview as to the condition of the boat I was looking at. He also gave me a realistic assessment of the boating market at the time. I found his message was the straight goods, not what i wanted to here. I have spoken to other people that have used Blake's services and all have spoken highly of their dealings with him. If you are looking for a knowledgeable, colourful straight shooter then call Blake, if you are looking for someone who is going to paint a pretty picture, call someone else.
Carlo Weickert
SEA BEE
Halifax, Nova Scotia
Blake sold my 45 P/H for me. He is knowledgeable, direct and outspoken. He lists and SELLS P/H boats. He has all the resources to assist the sale. You want action, he will get you the most bang for the buck in the shortest time.   (he also later purchased a 2000 4788 from me)
John Lynch Michigan
When we bought our 1997 4788 thru Blake in Ft. Lauderdale it was a big deal for us. Blake made it a very enjoyable experience. He shared his knowlege on the boat we were looking at and on others like it so there were no surprises after the sale. We found Blake to be very professional and a good arbitrator on our behalf in the purchase of our boat. The whole process was effortless for us as he drove us to and from our motel to the boat many times. In addition to the professional survey, Blake provided us with the expertice of his friend "Captian Bob" who really was helpful in explaining the mechanical side of the boat and what to expect of her. Blake gave us a list of surveyors to chose from to maintain his impartiality. After the sale Captain Bob negotiated the best deal on fuel delivered to our location. He also did some minor repairs as well as replacing filters, impellers, etc. in preparation for our long voyage home to St. Louis Mo. I wouldn't give up the BOC forum for anything and it was Blake Davis who told me about it. Anyone wanting to purchase a pilothouse cant do any better than what the Pilothouse King did for us! Thanks again Blake
Dave Berg   GREAT ESCAPE  St. Louis Mo.
Blake is the most knowledgeable and experienced broker on Bayliner and Meridian Pilothouse Yachts in the country. You can totally rely on his guidance! 
Scott Grody
You are the most professional broker I have ever spoken to. If I have any reason to use a broker in the future or have call to recommend one, it will certainly be you. No BS, just the real deal
John Koch  490 Meridian /Marlow 49′ Florida
"Wow! This lease purchase was a marathon event that began in May of 2016 and didn't end until September of 2016. It started with my quest for a new and more ideal boat. After having been in a Sea Ray 440 for 3 years I knew its limitations and wanted something different, and something that would better suit our needs. That led me to investigate pilothouse boats, which led me to Blake Davis' website. This site has a lot of good information on it. Blake sold these boats when they were new and is very knowledgeable about them. He knows their strengths and weaknesses. Blake is an excellent communicator and knows how to use the web for that purpose. Very well designed web page. I was a prospect and called Blake out of the blue, not knowing him from anybody. He made me feel at ease from the start and offered to go look at the boat for me. From the very first time, he gave me an accurate assessment of the boat. Blake has a sharp eye and knows what a good boat looks like and which ones are a waste of time. He is very up to date on the market and values. He is honest and isn't afraid to call a spade a spade, even if its not what you want to hear. So the boat "looked" good enough, but Blake told me she needed to be surveyed to find out what she's really like. There were several clues that Blake (Colombo) knew about this boat (it had been grounded and damaged the rudder) that weren't revealed by the listing agent. (Don't ask me how he knows this stuff but he does.) Once those questions were asked they led us to other discrepancies, which led us to more unrevealed problems, making for a long, long purchase and many contract extensions while these issues were fixed. One may ask, why did you keep pursuing this boat? The simple answer is, without Blake I probably would not have. Talking to him I realized there just aren't many pretty, well cared for, cosmetically clean boats of this kind left on the market. This one was, clean, pretty and structurally sound. It had many mechanical issues that if we could get the seller to fix, would make this a fine boat. The sellers were not the most cooperative and made this harder than it had to be. At one point, we felt as if all our efforts were lost. (The seller was not wanting to work with us on verification of repairs and we were not going to get this boat. The sellers didn't want to extend our contract again.) After some phone calls by Blake and a few suggestions which I implemented, his phone rang at 9:30 p.m. on our last day of the contract, offering another extension. That's impressive! But what impressed me more, was earlier that day Blake told me, "I just don't think these guys are going to work with us, so I'm going to send you your deposit money." That really impressed me! I didn't even have to ask, he just said I'm going to send it back. Colorful writer and character that knows how to use words that give you a visual of what he is seeing and describing. Entertaining, and has a good eye for the quality things. You will enjoy meeting and working with him. Made me laugh more than once through this tortuous ordeal. It was worth it! I have a beautiful boat that made a Gulf of Mexico crossing from Tampa, Fl. to Biloxi, Ms., without any problems. That would not have been the case without Blake Davis"
         – Walter Vaughan – 2000 Bayliner 5288 – Baton Rouge Louisiana
 ———————————————————————————————————————————————————————————————————————————————————————————————————————————————————————————————————–
FOR BUYERS IN AUSTRALIA, CANADA, and NEW ZEALAND- I would prefer to just give you previous clients direct contact info- so they can tell you exactly the expenses and procedures for importing yachts for your countries.   I only deal with nice people, so no worries in giving them a ring. Just ask.