Meridian & Bayliner Pilothouse Motoryacht- HISTORY, UPDATES, COMPS October 2017
Market wise East Coast: Inventory is low.. As usual, good boats are bringing good prices, and those needing work are selling for substantially less.
| | | | | | | | |
| --- | --- | --- | --- | --- | --- | --- | --- |
| 47′ | Bayliner 4788 | 1998 | Ask $125,000 | (07/16) | Sold $112,000 | (10/17) | NY, USA |
| | | | | | | | |
| --- | --- | --- | --- | --- | --- | --- | --- |
| 47′ | Bayliner 4788 | 1999 | Ask $174,900 | (11/14) | Sold $159,960 | (09/17) | FL, USA |
| | | | | | | | |
| --- | --- | --- | --- | --- | --- | --- | --- |
| 47′ | Bayliner 4788 | 2000 | Ask $179,999 | (01/17) | Sold $145,000 | (09/17) | NY, USA |
| | | | | | | | |
| --- | --- | --- | --- | --- | --- | --- | --- |
| 47′ | Bayliner 4788 | 1999 | Ask $149,000 | (06/17) | Sold $140,000 | (08/17) | VA, USA |
| | | | | | | | |
| --- | --- | --- | --- | --- | --- | --- | --- |
| 47′ | Bayliner 4788 (freshwater since new) | 1998 | Ask $135,000 | (07/16) | Sold $115,000 | (08/17) | NY, USA |
| | | | | | | | |
| --- | --- | --- | --- | --- | --- | --- | --- |
| 47′ | Bayliner 4788 | 2000 | Ask $199,850 | (09/16) | Sold $186,500 | (08/17) | WA, USA |
| | | | | | | | |
| --- | --- | --- | --- | --- | --- | --- | --- |
| 47′ | Bayliner 4788 Hino Diesels | 1995 | Ask $149,000 | (04/17) | Sold $126,000 | (08/17) | CA, USA |
| | | | | | | | |
| --- | --- | --- | --- | --- | --- | --- | --- |
| 47′ | Bayliner 4788 | 1997 | Ask $134,900 | (01/17) | Sold $117,000 | (08/17) | NC, USA |
| | | | | | | |
| --- | --- | --- | --- | --- | --- | --- |
| 47′ | Bayliner 4788 (370hp engines) | 1999 | Ask $189,900 | (04/17) | Sold $160,000 | (06/17) Ca. USA |
| | | | | | | | |
| --- | --- | --- | --- | --- | --- | --- | --- |
| 47′ | Bayliner 4788 | 1999 | Ask $169,750 | (02/16) | Sold $152,000 | (03/17) | FL, USA |
| | | | | | | | |
| --- | --- | --- | --- | --- | --- | --- | --- |
| 47′ | Bayliner (freshwater since new)4788 | 1999 | Ask $219,990 | (11/16) | Sold $185,000 | (03/17) | GA, USA |
| | | | | | | | |
| --- | --- | --- | --- | --- | --- | --- | --- |
| 47′ | Bayliner 4788 | 2000 | Ask $159,999 | (03/16) | Sold $150,000 | (07/16) | SC, USA |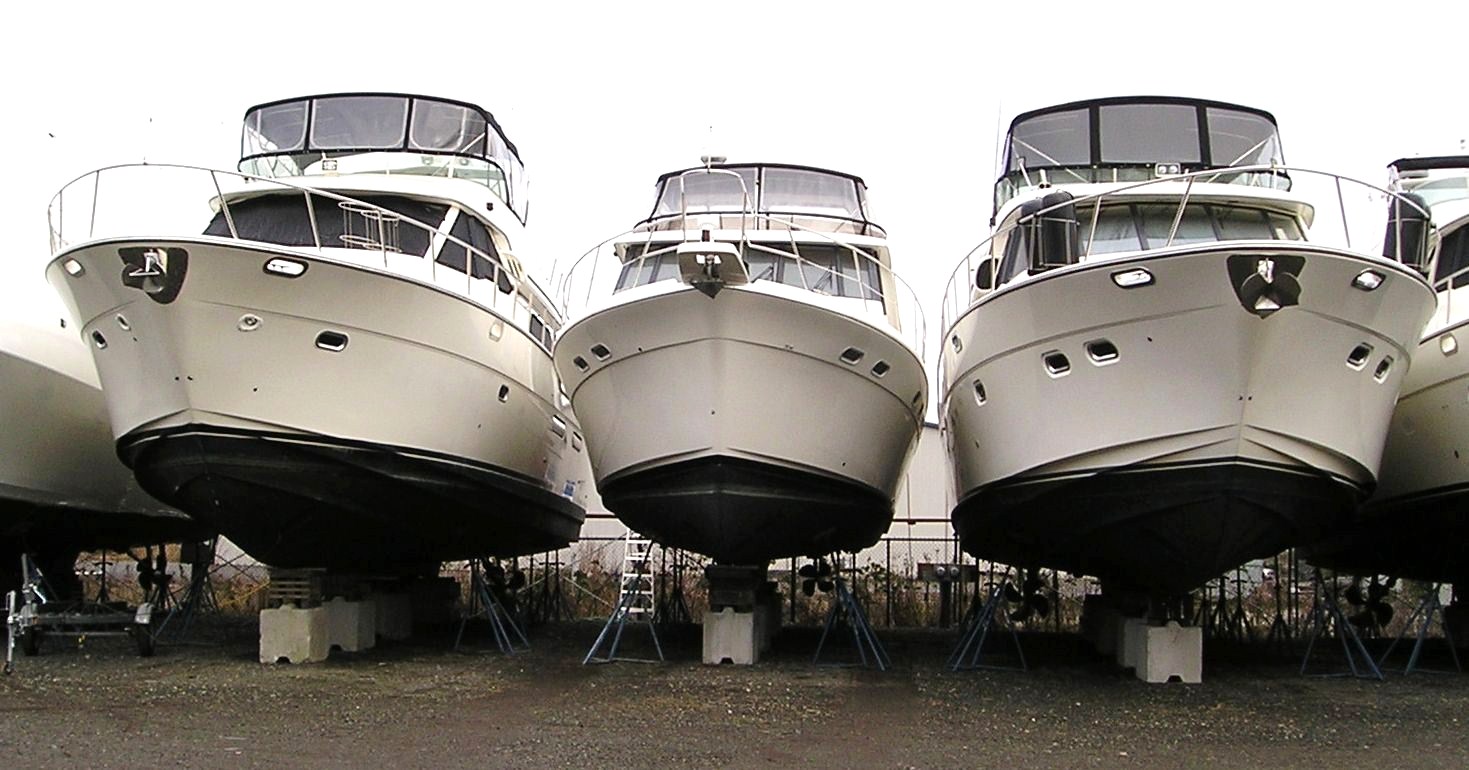 Bayliner 5288, 4788, 5788 lined up together . You can clearly see the differences in their volume, which was well reflected in their pricing. The Meridians are (with only very minor exterior differences, shape of portlights being most major) identical -as they were built in the exact same moulds by the same workers in the same Washington State factory as the Bayliners. The Bayliner Pilothouses were built from 1984 -2002. The Meridian Pilothouses were built from 2003-2008, although 2005 was the last year they built the 540.
| | | | | | | | |
| --- | --- | --- | --- | --- | --- | --- | --- |
| 54′ | Meridian 540 Pilothouse MY | 2003 | Ask $449,000 | (09/13) | Sold $365,000 | (10/17) | WA, USA |
| | | | | | | | |
| --- | --- | --- | --- | --- | --- | --- | --- |
| 49′ | Meridian 490 | 2005 | Ask $277,000 | (12/16) | Sold $270,000 | (10/17) | WA, USA |
| | | | | | | | |
| --- | --- | --- | --- | --- | --- | --- | --- |
| 49′ | Meridian 490 | 2004 | Ask $264,613 | (07/17) | Sold $244,641 | (10/17) | BC, Can |
| | | | | | | | |
| --- | --- | --- | --- | --- | --- | --- | --- |
| 49′ | Meridian 490 | 2006 | Ask $295,000 | (06/17) | Sold $290,000 | (10/17) | WA, USA |
| | | | | | | | |
| --- | --- | --- | --- | --- | --- | --- | --- |
| 49′ | Meridian 490 | 2003 | Ask $241,712 | (03/17) | Sold $230,394 | (09/17) | BC, Can |
| | | | | | | | |
| --- | --- | --- | --- | --- | --- | --- | --- |
| 49′ | Meridian 490 | 2005 | Ask $230,000 | (11/15) | Sold $225,000 | (07/17) | NY, USA |
| | | | | | | | |
| --- | --- | --- | --- | --- | --- | --- | --- |
| 49′ | Meridian 490 | 2005 | Ask $297,900 | (05/17) | Sold $286,000 | (07/17) | FL, USA |
| | | | | | | |
| --- | --- | --- | --- | --- | --- | --- |
| 49′ | Meridian 490 | 2008 | Ask $369,000 | (09/15) | Sold $335,000 | (06/17) Seattle Washington |
| | | | | | | | |
| --- | --- | --- | --- | --- | --- | --- | --- |
| 49′ | Meridian… | 2004 | Ask $251,500 | (01/17) | sold $ 230,000 | (02/17) | FL, USA |
| | | | | | | | |
| --- | --- | --- | --- | --- | --- | --- | --- |
| 49′ | Meridian. | 2007 | Ask $299,000 | (04/15) | sold $272,000 | (07/15) | FL, USA |
| | | | | | | | |
| --- | --- | --- | --- | --- | --- | --- | --- |
| 49′ | Meridian | 2003 | Ask $239,000 | (02/15) | Sold  $190,000 | (06/15) | FL, USA |
| | | | | | | | |
| --- | --- | --- | --- | --- | --- | --- | --- |
| 49′ | Meridian | 2008 | Ask $324,000 | (03/12) | Sold $280,000 | (06/15) | FL, USA |
Bayliner History & Updates
I receive so many inquires asking the same question, I'm going to put the answer right up here at the top of the page  so you don't have to read any further:  YES-The Bayliner 47's are much better built boats than the 4588's solely because many of the materials used in the construction of the 4788's weren't invented in the years (1984-1993) the 45's were built.  The 47's indeed have positive DESIGN features the 4588's don't have. If given the choice – go for a 4788, the newer the better. Please keep in mind though that the newest 4788 is now 15 years old, and the newest Meridian 490 is nine years old.
If you have any questions about the Meridians and Bayliners, please don't hesitate to contact me as I see a LOT of misinformation published about these boats especially on forums.
Built from 1984-2002-  Hurricanes and 'Super Storms' (whether coastal or inland), tornadoes, fires, and sinking (from striking things, or from improperly winterized vessels popping thru-hulls) has really depleted the availability of good Bayliner Pilothouse boats east of I-5. Combine that with the fact that most all of the good one's on the east coast were exported off from 2003-2014 during America's economic recession. The pickings in 2017 are slim for good one's. I know the good ones, and I know the bad one's, and I regularly see salesmen not making disclosures.
The Meridian Pilothouses (2003-08) were indeed built to a much higher fit and finish than the Bayliners which was reflected in their pricing when new, and in their resale values today.
Dedicated to Bayliner 4788s, 5288s, 5788,s and Meridian 490, 540, and 580 Pilothousehouse Motor Yachts.
HISTORY OF THE Pilothouse Motor Yachts
I apologize for the 'clunkiness' of the following but my site collapsed when a (Boatquest) host lost it all in 2009. It took several years to retrieve the info and rebuild.  I now have a secure host so this shouldn't happen again. Enjoy:
In 2002: Brunswick (the company who built Bayliner, Sea ray, Hatteras, Sealine, Maxum, Boston Whaler, Cabo, Mercruiser, plus many other boat lines, and eventually even Cummins diesel) discontinued the Bayliner series of Motor yachts and Pilothouse Yachts and they were "reborn" as Meridians for the 2003 model year at a much higher price ($300k higher MSRP) as the year before when they were called  Bayliner. with just minor changes.   ALL  the BIG (49′ – 58′) Meridians were built from the same moulds in the same factory by the same people as when called Bayliner in Washington State. Bayliner 4788's were also built in Maryland from 1997-1999.
 The Meridians have higher grade fabrics, hardware, bedding, faucets, etc., than the Bayliners, but many of the standard items offered on all Bayliners were options on the Meridians.  For example you'll see wet bars and cockpit showers in the 4788's, but not likely in a Meridian. Many little things didn't pass along.
Please note that not many 2002 4788's were ever built (some dealers were made aware of the upcoming Meridian change by 3/02, but Brunswick signed up a new Bayliner dealer as late as 5/02 (big lawsuit won on that), 5 or 6 made it to the East Coast and of those, two are in Australia, & one in New Zealand.  Not that many 03 490's were ever built . . Four (4) 03′ 490's were shipped East.  Meridian spent their efforts constructing the higher profit margin Meridian 411's and 459 Models. It appears more 2008 490's were built than any other model year.  But of the ALL the 490's EVER built, only a handful (10?) total made it to the East Coast (most stayed out west) which means there's even fewer on the East Coast Brokerage Market.
NO Pilothouses were built after the plant closed in June 2008.
As of 2016- no Meridians are in production.
SCROLL DOWN FOR MERIDIAN INFORMATION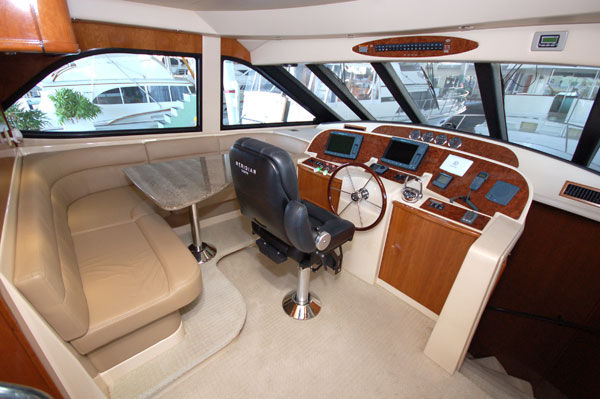 BAYLINER 4788 HISTORY; (differences between 4588's)
In 1994 Bayliner replaced the popular 4588 model (52′ Loa) with the new 4788 (54′ Loa). The extra 2′ is in the main salon.
The prop pockets of the 45 (shallower draft by 4″) were eliminated. 6 degree dead rise at transom.
The exterior was faired to a more streamlined look and the radar arch is now slanted forward.
The draft is deeper by 4″ and the bridge clearance is higher by 3′ on the 4788s.
The Hino diesels HP was boosted from 250 (220hp up through 1991 model year, then 250 hp through 93 model years) to 310 Hp through 1995 models.
In 1996 Cummins Diesels were introduced with the standard being 315HP, although some 96 models can be found with Hinos.
In 1997 the standard engines became 315 hp Cummins with 330's & 370's ($16k retail cost -$10k-dealer cost for 370's) being optional.
IF a 330hp Cummins has a Bosch fuel pump, it can have it's horsepower boosted to 370 hp –if it has the Japanese fuel pump, it can't..
NOTE: the salon superstructures, doors, window frames, pilasters are made of Aluminum. This is another reason these boats have a low center of gravity, and as everybody knows; aluminum is very strong and light. Pretty high tech for a low priced yacht  isn't it?  This is also the reason why the salon windows don't leak or crack on the Bayliner pilothouse models.  The window frames are not supporting the weight of the flybridge as are other marques.  Because  in these other brands it's the window frames alone structurally supporting the flybridge, which is why they continually have  windows crack as the bridges bounce.  NOT the Bayliner- they have a strong aluminum structure, AND strong window frames. Aluminum is subject to corrosion if not properly zinc treated, and salt is allowed to build up.
Many 1999-2002 models have either had to have their exterior aluminum refinished, or are in need of refinishing.
The 45's have balsa cored decks and time is finding them rotting out due to sealants for the windlass, railings, seating etc.,drying out. Or as refits have discovered -the were not sealed at all!
FUEL BURNS:
.  In related fact– The owner of the "Barbara K" (99 4788 w/370's) cruised down from Charleston SC to Miami for loading on a ship to New Zealand, and she burned exactly 180 gallons of fuel. His speeds varied, running both in the open ocean and Intracoastal Waterway.
FUEL BURN Cummins 330 hp.

 1000 RPM = 6 knots  1.5 gph each = 3 gph= 2 nmpg
 1400 RPM = 8 knots  2.8 gph each = 5.6 gph =1.43 nmpg
 1600 RPM = 9 knots  3.9 gph each= 7.8 gph = 1.15 nmpg.
 2600 RPM =18 knots 12.4 gph each=26.8 gph=.67 nmpg
 2800 RPM= 22 knots 17.4 gph each=.34.8 gph=.63 nmpg.

Range with 10% reserve 396 gallons

1000 rpm=792 nautical miles
1400 rpm =562  nm
 1600 rpm=344 nm
 2600 rpm=265 nm
 2800 rpm=249 nm.

Disclaimer:  Your results may vary.

. That's a pretty impressive range. The nice thing about a 4788 is you can go slow, OR if you feel like it-you can get up and GO.
In 1997 the 47's interiors were upgraded with the addition of Corian in the galley and main salon, "leather" look upholstery in main salon and the pilothouse.

The Pilothouse has Burl wood (actually a wood like plastic laminate on metal) inlay in the dash starting in 97, which is very sharp.

The appliances in the galley are all white -2001.

The 2002 models have wood grained refrigerator to match the salon.

The interior is basically unchanged from 97 to 2002 models except the 2002 models offered a beautiful high gloss Cherry wood option ($7,370.00).  2014 update: This laminate in the 2002 models are starting to crack on some curved surfaces and 'fog up' in area's receiving direct sun light.

Interior woods were either Teak with Ash or Maple options ($1,600.00) prior to 02.  Although I've seen some white interiors on 1995 models, they bring substantially less money on the resale market.  A common statement of those seeing those for the first time is " this looks like a trailer".

___

Starting in 99 stainless steel rub rails became a standard, a MUCH DESIRED feature. If choosing between a 1998  and 1999 models, this feature alone is worth the price difference.  Those aluminum hull deck joint covers were useless as rub rails, and sourcing replacement sections as of 2017 is IMPOSSIBLE-. TACO Metals in Miami, Florida, was the distributor. They are totally out of inventory. If you find yourself in Ft. Pierce at Marine Liquidators Connection, you can physically go through their huge stacks of rub rails. I'm pretty sure they are there, but you have to go there in person, as they will give you NO help over the phone, and not much even when your there in person, you still have to do the searching. They're pretty busy without needing to meet you.  You'll quickly discover this, if you show up on a Saturday.

These boats came from the factory pretty well equipped with standard items that most manufacturers would call options such as 330hp Cummins,  8kw gen, 4 electric heaters,  electric davit, w/icemaker in main salon, fully equipped galley w/trash compactor, microwave, etc, canvas covers, electronics package w/Autopilot, Gps, radar, Vhf, TV/VCR, stereos, electric windlass,etc.

All have Bronze shaft struts and rudders, Bronze Seacocks, color coded  wiring, Racor filters and top of the line appliances, machinery and equipment.

The Cummins diesels came with a major component warranty of 6 years or 1800 hrs, and Bayliner warranted the Hulls for structural for 5 years pre 01 models, 6 for the 2001 models, and 7 years for the 02 models. All warranties are transferable. (note-this was written back in 02)
———————————————————————————————————————————————————————————————————————————————————————————————————————————————————————————————

BAYLINER 5288s

introduced for the 99  model (means some were built in 1998) year: 14 inches wider than the 4788's, and 17,500 lbs more weight PLUS draft pushing 5′ (if not more) loaded, these larger yachts give a real "yacht feel and ride". The engine rooms are accessed from the cockpit via hinged stairs to the flybridge. The headroom and space in these engine rooms is excellent. Incredible amount of storage in the lazarette, and in the hollow swim platform.
Layout:  The salon and galley layout varied boat to boat-year to year.  Two bar stool chairs were standard at the breakfast bar of the galley instead of two free standing chairs to port. In 2000 models this was changed and they have two free standing chairs on the port side the same as the 4788's as apparently they moved the galley forward enough to allow this improvement.  The  master stateroom is full width amidships. The VIP stateroom is forward with an ensuite head. A guest stateroom with fixed upper and lower berths. The house sized washer and dryer are located in this stateroom.  Jesus folks, change your bedspreads at least every ten years. Nothing dates a boat like original bedspreads. Go to Home Goods or TJ Maxx and pick out something new.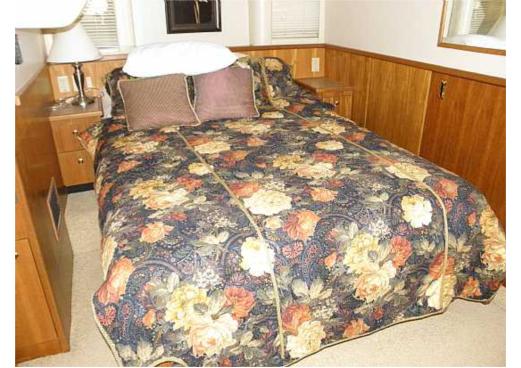 The first engines were M.A.N diesels.  The 500hp in the early models were replaced with 610 hp engines as the 500 hp MANS had a hard time giving a 17 knot cruise with a medium load.  The 610 hp MANS will cruise at 20 knot's. A few 2002 models were built with Cummins QSM diesels.  Quite rare and more desirable than the M.A.N powered boats-purely because of the price differences in parts, space in the engine room, and availability of Cummins service professionals.
FUEL BURNS of a 2002 5288 with 610 MANS measured by Flow Scan fuel meters:
Interestingly enough the RPM's almost mirror the speed the variable is of course the fuel consumption. Below are an owners experience with 1/2 load of fuel, full of water and a 14'Novurania  RIB w/ 50HP Mercury;
So 650rpm= 6.5 knots       2.0NM per gallon
750rpm=      7.5 knots       1.7NM per gallon
850rpm=      8.5 knot         1.5NM per gallon
1000rpm=   10 knots         1.18NM per gallon
1475rpm =  14 knots        .75 NM per gallon
2000rpm=    23 knots       .34 NM per gallon
The dealer cost on the 5288 was almost $300k more than the 4788s.  This much higher price, combined with the deep draft,  and lack of a dinette,  did not make the 5288 a particularly popular seller when new.  Many buyers preferred to just pay "a little more" and get a WHOLE LOT more with the 5788 model.  I've seen different variations of the galley on the 5288 models,  I sold a brand new 1999 model in 2000 that the buyer spent $28k making the galley similar to their 4788 .   You can't beat the engine room access and the master staterooms in comparison to a 4788!   Not many 5288's were ever built, and Meridian dropped the 540 model in 2006.   REAL NICE 5288's are trading from $195k -$239k on the East Coast.
—————————————————————————————————————————————————————————————————————————————————————————————————————————————————————————————————————————————————————————————————————————————————————————————————————-
5788s
   June 17 updates. The 2000 5788 in Alabama, which was an extremely nice one owner freshwater boat was just purchased by the owners brother. The 1999 that had been on the market in NY for five years sold for $275k. The new never sold 2000 in Ft. Myers sold for $300k , and the 2000 5788 in Iowa is now under contract.   Now there's none for sale on the East Coast.
Photo showing the advantage of a 5788 over a 580 Meridian.. The 57's have a port side door in the Pilothouse, the Meridians do not.  If you can find a 2002 Bayliner 5788 with the Cummins engines, the high gloss cherry wood. If you can find one-  BUY it. RARE.
Her beam is  17'02", which is over a foot wider than the 5288's, but her draft is the same. 49,000 lbs and TEN DEGREE dead rise gives a good ride. You can do some comfortable ocean voyaging in one of these.
FUEL BURNS 610 hp MANS
RPM……….MPH……….GPH
1000………10.4……….8.2
1200………11.9……..13.8
1400………13.5……..22.4
1600………15.6……..30.4
1800………19.6……..42.4
2000………23.4……..52.5
2200………25.7……..71.3
WOT………26.4……..73.0
A owner on BOC reported his fuel burns on a 2400 NM trip in his 97 5788 with 610 hp MAN diesels ;
"Total US gallons consumed 2900 (excluding  generator)
Distance traveled  2400 nm
Total engine hours 244
Average speed 9.8 knts (Dock to dock including)
NM per US gallon 0.83
US gallons per hour 11.88
Cruised mostly at 1200 RPM and of course the speed over ground varies immensely with the tides and currents along the Inside passage.
We have 610 MAN's with approximately 1500 trouble free hours on them"
Her main salon has a LARGE
dinette directly across from the galley and a large settee in the salon. The entertainment center is huge. A large pilothouse with great seating for guests behind the helmsman allows excellent viewing as you cruise.
The flybridge is very  spacious with ample seating along with a wet bar and room for big tenders, not just RIBs. Several 5788's also have extra davits on the swim platform. Down below the ample beams allows for very spacious staterooms throughout, with large heads and vanities.
All in all, very nice yachts which have proven themselves in some serious off-shore cruising.
I once sold a gorgeous 'as new' 2001 5788 with two gens, two davits, top notch electronics with very low hours for mid $700s (back in 02) and she ran on her bottom from Mexico to Grays Harbour Intlet en-route to Alaska where she survived a harrowing bar crossing when a huge wave stood her on end, then while in the trough, another huge wave broke on top of her, fully submerging her deep under the surface-yet all windows held and she survived, both engines and the generator were still running- only sweeping loose the flybridge seats, tender, etc. when she popped back up-  this would had sunk many other yachts, which proved for a fact that these yachts have what it takes. After being repaired she continued on to Alaska, but with her owner in a cast from the broken leg he received during the ordeal.
———————————————————————————————————————————————————————————————————————————————————————————————————————————————————————————————————
Meridians;
June 2017 updates:  Ah, TIME. We all know about time, and how it takes it's toll, and how it eventually reveals all truths, right?  Well, what I've discovered on the Meridian 490's, now that their owners (who bought them new, and have now sold them) are 'talking', plus enough have been taken through surveys, is that although they were built in the same factory, by the same workers as the later model 4788's- SOMETHING must have been changed in their construction layup because apparently there was issues when NEW- with de-lamination, especially in the lazarette sub-flooring, under the generators and on the port side under the batteries. Dealers fixed these issues under warranty when new IF it was caught. There apparently was issues on the foredeck 'right out of the box', again some were repaired when new, others- not.  I'm also now hearing about issues in the hallway too. I'm getting phone calls from Surveyors and brokers asking me "you seeing this too?". Every 490 I've stepped on now has a spongy foredeck. I thought it was a recent development due to failed bedding of the pulpit and windlass, like so many 4788's.  Apparently not.
| | | | | | | |
| --- | --- | --- | --- | --- | --- | --- |
| 49′ | Meridian 490 | 2008 | Ask $369,000 | (09/15) | Sold $335,000 | (06/17) Seattle Wa. |
1/16. Meridian is no longer building any boats at all..
2003-This new Meridian 580 has the looks of a real YACHT with the fit & finish that one expects when paying over a million dollars for a new boat. They've really dialed it in nicely!  Excellent fabrics & wood work. Teak looking (Flexiteek) material on aft-deck & swim platform and dingy area of the flybridge is beautiful. The flybridge seating is beautiful and the helm and companion seat is very high quality.  The new designed one piece salon windows really 'pop the boats off' (but don't open like the 5788s)  but I really don't like the location of the salon TV, which really wasn't necessary in this day and age of pop-up and hidden screens.  The 5788 salon layout was a bit more user friendly (a place to nap).   Flat Screen TVs in master & guest staterooms are sharp looking.  The engine room is larger with the Cummins Diesels versus the physically larger MAN diesels.  There's many system and fitting upgrades on the 580 Meridian over the 5788's.   VERY hard to find on the East Coast Brokerage market.
The 490 has the same features we all liked on the 4788's. In the later part of 2004, in a huge improvement, they made an engine room access hatch in the salon sole BETWEEN the engines in addition to the standard entrance via the stairs. On flip side of that improvement- they eliminated the storage under the L-shaped settee, which is odd. There's nothing in there, they just installed modular seats that do not open up. I'm sure a good upholstery shop can rectify this. On the 4788 this L-shaped seating areas is one of the storage area's for bulk goods, and is also a popular place to install an inverter, being that the batteries are (offset) below this space in the lazarette.
Although no Meridian 58's or 490's hulls were laid up after 2008,  three (3) 580s were  given 2010 HIN numbers, as they were still at the factory in 2009, and not sold until 2010. You would have to ask the Coast Guard that 'trick'.  One is now in Australia, 2 are in Washington State.
Although built in the same moulds as the Bayliner Yachts, the Meridians have different shaped port lights than the Bayliners, and the Meridian 580's have larger salon windows that don't open-unlike the 5788's.  The 580 and 540 Meridians do not have port side pilothouse doors. The fit and finish of the interior is richer with the Meridians, better grade carpeting, hardware, and a MUCH higher quality pilothouse helm chair, etc.
Meridian History & Updates; the first year (2003) the Meridians were introduced they actually were just leftover 2002 4788's models with teak interiors, with the last letter of the HIN number changed. . The portlight shapes are different in the hull, as are the engine air intakes.  Other than that…pretty much identical exteriors.  I had clients attempt to purchase new 03 Meridians back in 03, and the dealers stood firm at $530k no matter how hard they tried to buy for less. Surprisingly enough -none of the new 490's had the high gloss Cherry Wood interiors everybody loved about the 2002 4788's.
The salon TV's on Merididan 490's no longer have a cover, so you always have a "glass eye" staring at you. Their prices were substantially ($150k dealer cost) higher than what the 02 Bayliners. Brunswick did a major dealer "sweep" in 2002 and eliminated many long time Bayliner dealers from selling this "new" line of boats, instead having many Sea Ray dealers market these vessels.  As you can imagine this threw this market in total disarray as most Sea Ray dealers who had been selling Sea Rays, sometimes literally across the street from Bayliner Dealers for decades, now all of a sudden were being instructed to promote a boat they had spent years selling against. It's safe to say it caused a lot of confusion in the boat market and sales were sporadic as there was huge buyer reluctance to pay hundreds of thousands of dollars more for basically the exact same boat (minus standard features of a 4788) it had replaced only months earlier.
Meridian construction features:
These really are quite high-tech built yachts, as Bayliner was one of the first boat builders to use Cam controlled laser machine tools. All models use a unitized construction process; load-bearing bulkheads are bonded to the hull and deck to provide a yacht that is stronger and more durable than most boats today. Longitudinal hull stiffeners give additional strength on the hull sides give additional strength on the hull sides, absorbing stress that would otherwise continue to move through the boat.  When so called "quality" yachts especially oriental built boats are flunking surveys left and right mostly due to rotted fuel tanks, blistered bottoms, and leaking teak decks, the Bayliner and Meridians usually pass. So much for cost equating quality. We see this in the classic car market too. $100k Mercedes now selling for $12k or less, yet $4k Chevy's bring $30k. Look at VW Beetles, then, and now.  These Bayliners are indeed like Chevy's . They weren't expensive new because they were built in high tech plants. Brunswick (like GM) bought their materials, equipment, engines, etc., in bulk, something few other manufacturer could do.
Every Meridian features a precision-overlap, bonded hull deck and joint that forms a tight seal against the elements. Stainless-steel through-bolts further strengthen the joint.
MOST importantly they use a Vinylester barrier coat which prevents water from penetrating the laminate, minimizing the risk of blisters forming on the hull.
During their fiberglass construction process, each part is hand laid by skilled craftsmen using heavy-grade 24 ounce woven roving and biaxial stitched fabric, hand rolled and finished between alternating layers of strand. This ensures superior strength while providing a mirror-like exterior finish. It also allows them to offer a 10 year structural hull and deck limited warranty on the Meridians.
They use the finest pre-cured gel coats for a uniform, high-gloss finish that stands up to the toughest elements. Their boot stripes outlast taped stripes because they are incorporated in the gel-coat.
Engine beds with transverse crossbeams reduce vibration and add strength. These structural engine mounting transfer the weight, torque and thrust of the propulsion system to the structural components of the hull.
The radar arches are now fiberglass which will not corrode as the older Aluminum ones would. The Rail stanchions are welded inside and out to provide maximum strength. All exterior welds on rail systems are ground and polished to minimize surface corrosion. All molds are created by a five-axis milling machine. This process allows molds to be constructed to minimal tolerances for unparalleled consistency in the final product.
Meridian 490 misconception; The engine room access hatch in the salon was NOT a standard feature on these vessels until the mid 2004 models. Like the 4788's, many of Meridian 490 owners had the hatch installed. It's a rather simple procedure, but it does necessitate new carpet in the salon.
If you have any questions about  boats, please don't hesitate to call me. I will be happy to talk to you. I don't expect everybody to be a buyer this year.  
Non-Florida residents can legally leave their purchase here in Florida for 180 days without Florida sales tax being due via two decals, which can be purchased from a Dealer or Yacht Broker at time of purchase that allows a buyer another 90 days for a total of 180 days. So-fly here, cruise the Bahamas (48 miles away),& the Keys (30 miles away) and experience crystal clear water while enjoying your new yacht before taking her home!
Photo of the nicest Pilothouse helms to be found- and it's a Bayliner/Meridian.  Note; the dash wood inlay is found starting in late 97 models through the 2002 year on Bayliners, and thru 08 on Meridians.  The Meridians have a pretty fancy fixed helm seat.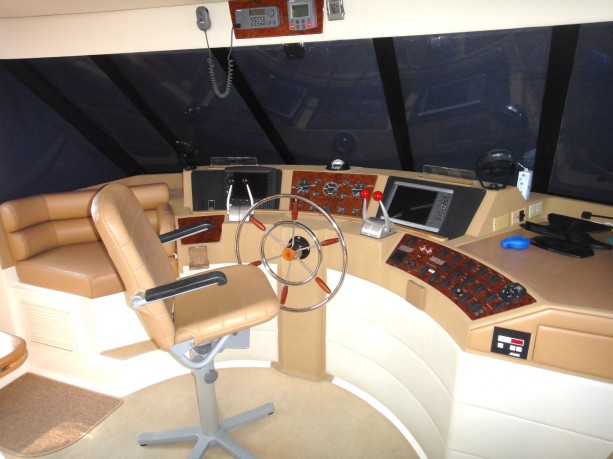 The 4788 has proven to be a very successful and popular yacht. I have NEVER lost a 97 or newer model 4788 Pilothouse on a survey, although I've seen older models having gel-coat (blisters on 95 models)  and Hino engine  (exhaust risers and manicooler parts are expensive) issues. I wish I could say the same about so-called "quality yachts" that cost double the price!  This is but ONE reason Blake Davis Yacht Brokerage specializes in these marques- the deals always go through if the buyers and sellers are reasonable.  Folks with more common sense than a need to impress the Jones realize they can buy a late model yacht with warranties for the same price of a much older so-called quality yacht that have NO warranties -that will eat them alive with upkeep and refits. So, smart people buy these Pilothouses and enjoy cruising them.  Talk to a Bayliner Pilothouse owner yourself while dock walking some day and you will soon understand their popularity.      It's simple, they are GREAT designs!
I know this market and can TRULY tell you what they sold for NEW ( as I sold them new). If you have one for sell- I would like to know about her- I have buyers from literally all over the world looking to buy, and my listings SELL FAST.
I have sold several 4788's sight unseen to buyers.  A fellow from New Zealand who purchased one from me sight unseen (2004) stated when asked upon his first inspection if he was satisfied stated:. "I got more than I expected, this yacht is totally equipped and in condition better than one could had hoped for".  He cruised her from Miami to Canada and back, and then put her on the Dock Express and she is now in Auckland New Zealand.  Another HAPPY buyer!  He then purchased a 2000 5788 from me sight unseen in 2008.
Another buyer of 2002 4788 that was purchased sight unseen arrived in Australia and her owner reported: "Sea Lady arrived early last week. She is great. Thank you for all your work. We unloaded her and had a couple of nights on board at a marina in Brisbane and then took her down to the Gold Coast and lifted her out to have the bottom done and a few other little things. It was great taking the boat on a four hour run and sitting on 18 knots. My wife is rapt in the internals (and so am I. They have it so modern and low maintenance compared with our 4588)".
That's what I expect to hear from my clients.
I received a email from another New Zealand client as he was heading up the east coast, and I got such a kick from it I copied it for all to see because it's so true: <<<we took off on the great adventure. Presently in Newport, Virginia, will make a run outside for NY as soon as "Charlie" passes through. So far, no majors, she is sweet and getting lots of praise. What is it with Bayliner 4788's? Sea Ray owners, particularly, who have spent more money than me, and act like they are experienced boaters, keep wanting to know what she is; rave about the interior, and cream themselves over the bridge!! Didn't Bayliner bother to tell anybody about these boats – they must be the best kept secret in boating!! I reckon good ones will really hold their value.<<<< FOLLOW UP 5/08- this buyer has sold his 4788 in New Zealand, and bought a 2000 5788 from me and is cruising the East Coast of America. 1/16 the vessel is home in New Zealand.
TRANSPORTING THESE BOATS: (note photos below)
ALL of the 45's & 4788's were designed to be trucked from the factory, so it's no big deal to truck them. Most all were trucked new from their factories (at one time, Maryland, Washington State, and North Carolina) to their dealers all across the United States. I have sent many out West by truck– from San Diego to Bellingham Wa.   With the 45'er it's just a matter of dropping the arch, but the 4788 requires that the flybridge windshield, the engine control pod w/wheel, arch (of course) and the props must be removed prior to trucking.
10/09 : Many boat truckers  got out of the boat trucking (instead hauling military gear for Blackwater and Haliburtion) business after so many boat manufacturers closed down in the past year, so the remaining boat truckers have raised their prices in classic "supply and demand" fashion. Trucking prices are changing daily up and down. You really have to shop around.  All I can tell you is that prices are now dramatically higher after 2008. I've previously sent 4788s from South Florida to Seattle -Bellingham from as low as $12k  to $18k. Quotes in 2012 have been $18k to $28k- which is just insane. Received a quote in 2013 for $35k for a haul from Mississippi to California.  At these prices, it's cheaper to send them via ship. Slower, but they don't have to be broken apart and reassembled do they?
The 5288's and 5788's were built in the Washington State plant, then trucked to Galveston Texas where they were assembled then run on their bottoms to the East Coast Dealers when new. Preowned they will require MUCH more in decommissioning to truck than the smaller boats but these boats are quite capable of running on their bottoms pretty much anywhere coastwise (or across the Caribbean) if you have the time.
OR VIA SHIP-I'm finding that with the higher and higher prices of trucking, it now makes sense if your going coast to coast to just use the DOCK EXPRESS or SEVEN STAR (link on front page) . It's almost the same kind of money and the boat does not need to have any thing taken apart. The rates get cheaper as the shipping date arrives- if there's vacancy on the boat. They can drop you off in Costa Rica or Mexico.  I've recently (2014) sent 4788's to New Zealand and Australia from $35k to $50k. 5788 for $75k in 2016. It all depends on supply and demand so please contact the shippers direct (links here on my site).
2014:  Dockwise and Seven Star have merged.
2016:  I've been told that the normally scheduled ships from the USA to Australia and New Zealand are on hold until further notice due to the low demand due Australia's current economic problems, plus the strong US dollar, which has now made American goods quite pricey.
Note that the air intake covers on the 490 Meridian extend past the rub rail, so an easy way to discern the difference between a Meridian and a 4788 from afar is that usually these will be cracked or missing on the Meridian. On the 4788's they are flush with the hull. Might have LOOKED good on the drawing board, but is stupid in reality. This is the reason the Meridians have their beam listed at 15'01" and the Bayliners are 14'11", it's just the engine vent covers. The engine room vent covers on the 4788's are safely protected by the rub rail.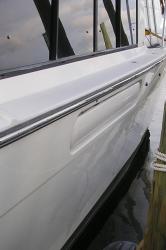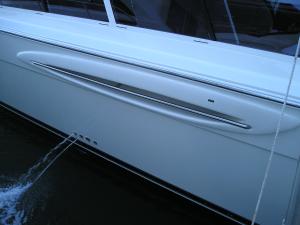 If your going to truck a 4788 or 490 you need to get it down to this height as shown in the photo below.
The following must be brought down to do so: arch, flybridge windshield, the steering wheel pod, bridge entertainment center, and props. ALL were brought from the factory like this. They were DESIGNED to be trucked so it's no big deal. Everything comes off easily and goes back together easily. Expect to pay $3k on both ends for a yard to take it apart, and another to put back together.
The 4588's only needs the arch to be lowered as the 45′ has shallower draft and lower height.