Meridian Pilothouse Motor Yachts – HISTORY, UPDATES
.
For those seeking info on the Bayliner Pilothouses, I recommend the BOC (baylinerownersclub.org)  Yes, I have sold well over 40 of them, but that was back when they were either new or 'not that old'. NOW, the newest one is 16 years old, and they're ALL suffering old age issues, which makes them rather difficult to get through survey, especially engine surveys. Remember: they were 'price boats' when new.  Most ALL seem to be falling into the Project Boat Category – which isn't my cup of tea. I'm seeing 4788's with Cummins engines now selling for well under $100k. Again -"not my cup of tea".
Available for professional marketing consultation, both corporate and personal.  Accurate appraisals.
Please email "Pilothouseking@icloud.com" OR TEXT 305 956 3818 and I will immediately call you back.
   We don't market junk, but can quickly tell you which boats on the market are junk.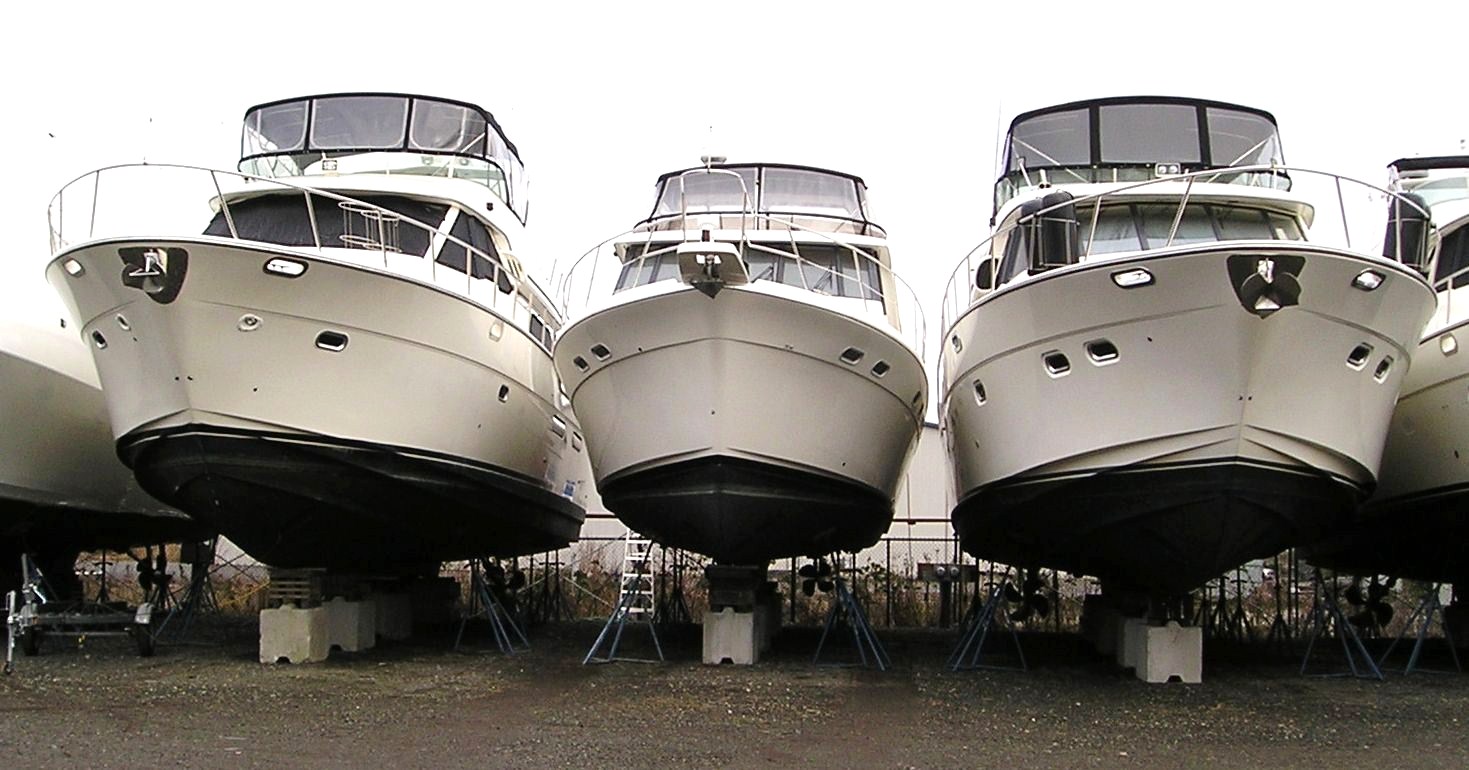 | | | | | | | | |
| --- | --- | --- | --- | --- | --- | --- | --- |
|   Bayliner 5288, 4788, and 5788 all lined up together. For all practical purposes the Meridian Pilothouses look exactly like these, with the exception of the shapes of the port lights,salon windows, and air intake covers (490). Both marques were built in the same factory by the same workers in the same moulds. These boats are getting rather 'long in the tooth' now. | | | | | | | |
 Meridian History & Updates
Built from 2003-2010 in Washington State USA.- Please scroll down for construction details, and photos of the Meridan 580, 540, and 490 Pilothouse Motor yachts.  Although no Meridian 58's or 490's hulls were laid up after 2008,  three (3) 580s  and several 490's were given 2010 HIN numbers, as they were still at the factory in 2009, but not sold until 2010. You would have to ask the Coast Guard that 'trick'.
2016 (written): Meridian is no longer building ANY yachts.  –  – – –  – Construction details are below- Keep scrolling.
Meridian 580 Pilothouse Motoryachts
If you can find a 2002 Bayliner 5788 with the Cummins engines, and the high gloss cherry wood.  Buy it, as they're as rare in 2018 as the proverbial unicorn or common sense.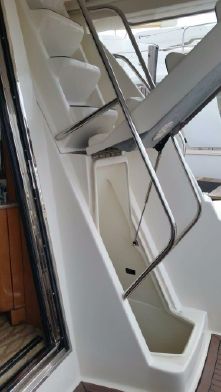 ****************************************************************************************************************************************************************************************************************************************************************************************************************************************************
CONSTRUCTION DETAILS:
These really are quite the high-tech built yachts, as Brunswick, even on their Bayliner Pilothouse series was one of the first boat builders to use cam controlled laser machine tools. All models use a unitized construction process; load-bearing bulkheads are bonded to the hull and deck to provide a yacht that is stronger and more durable than most boats today. Longitudinal hull stiffeners give additional strength on the hull sides give additional strength on the hull sides,absorbing stress that would otherwise continue to move through the boat. The Meridians were built in the same factory by the same workers in the same moulds used to build the Bayliner Pilothouse series.
.
Directly from the Meridian Dealers Manual>>> Every Meridian features a precision-overlap, bonded hull deck and joint that forms a tight seal against the elements. Stainless-steel through-bolts further strengthen the joint.
MOST importantly they use a Vinylester barrier coat which prevents water from penetrating the laminate, minimizing the risk of blisters forming on the hull.
During their fiberglass construction process, each part is hand laid by skilled craftsmen using heavy-grade 24 ounce woven roving and biaxial stitched fabric, hand rolled and finished between alternating layers of strand. This ensures superior strength while providing a mirror-like exterior finish. It also allows them to offer a 10 year structural hull and deck limited warranty on the Meridians.
They use the finest pre-cured gel coats for a uniform, high-gloss finish that stands up to the toughest elements. Their boot stripes outlast taped stripes because they are incorporated in the gel-coat.
Engine beds with transverse crossbeams reduce vibration and add strength. These structural engine mounting transfer the weight, torque and thrust of the propulsion system to the structural components of the hull.
The radar arches are now fiberglass which will not corrode as the older Aluminum ones would. The Rail stanchions are welded inside and out to provide maximum strength. All exterior welds on rail systems are ground and polished to minimize surface corrosion. All molds are created by a five-axis milling machine. This process allows molds to be constructed to minimal tolerances for unparalleled consistency in the final product.<<<<<
NOTE: the salon superstructures, doors, window frames, pilasters are made of Aluminum. This is another reason these boats have a low center of gravity, and as everybody knows; aluminum is very strong and light. Pretty high tech for a low priced yacht  isn't it?  This is also the reason why the salon windows don't leak or crack on the Meriidan pilothouse models.  The window frames are not supporting the weight of the flybridge as are other marques.  Because  in many other brands it's the window frames alone structurally supporting the flybridge, which is why they continually have  windows crack as the bridges bounce.  NOT the Meridians- they have a strong aluminum structure, AND strong window frames. Aluminum is subject to corrosion if not properly zinc treated, and especially if salt is allowed to build up.
Meridian 490's are just a continuation of the Bayliner 4788's so it's safe to assume the construction layups are the same as below.
FUEL BURNS:
The Cummins QSM electronic diesels of the 2007-2010 model years in the 490's got BETTER fuel mileage than the mechanical engines, do not smoke, and are quieter.
.  In related fact- The owner of the "Barbara K" (99 4788 w/370's) cruised down from Charleston SC to Miami for loading on a ship to New Zealand, and she burned exactly 180 gallons of fuel. His speeds varied, running both in the open ocean and Intracoastal Waterway. You should expect similar burns from Meridian 490s with these engines.
FUEL BURN Cummins 330 hp.

 1000 RPM = 6 knots  1.5 gph each = 3 gph= 2 nmpg
 1400 RPM = 8 knots  2.8 gph each = 5.6 gph =1.43 nmpg
 1600 RPM = 9 knots  3.9 gph each= 7.8 gph = 1.15 nmpg.
 2600 RPM =18 knots 12.4 gph each=26.8 gph=.67 nmpg
 2800 RPM= 22 knots 17.4 gph each=.34.8 gph=.63 nmpg.

Range with 10% reserve 396 gallons

1000 rpm=792 nautical miles
1400 rpm =562  nm
 1600 rpm=344 nm
 2600 rpm=265 nm
 2800 rpm=249 nm.

Disclaimer:  Your results may vary.  That's a pretty impressive range. The nice thing about a 4788 is you can go slow, OR if you feel like it-you can get up and GO.
These boats came from the factory pretty well equipped with standard items that most manufacturers would call options such as 330hp Cummins,  8kw gen, 4 electric heaters,  electric davit, w/icemaker in main salon, fully equipped galley w/trash compactor, microwave, etc, canvas covers, electronics package w/Autopilot, Gps, radar, Vhf, TV/VCR, stereos, electric windlass,etc.

All have Bronze shaft struts and rudders, Bronze Seacocks, color coded  wiring, Racor filters and top of the line appliances, machinery and equipment.

———————————————————————————————————————————————————————————————————————————————————————————————————————————————————————————————
MERIDIAN 540 built from 2003 – 2005.
LOA: 54′      Beam: 16'03"          Bridge Clearance:19'03"    Headroom: 16'07"    Dry Weight: 50,554lbs.
Tankage:     Fuel: 700 gallons    Water: 200 gallons             Holding: 76 gallons
 these larger yachts give a real "yacht feel and ride". The engine rooms are accessed from the cockpit via hinged stairs to the flybridge. The headroom and space in these engine rooms is excellent. Incredible amount of storage in the lazarette, and in the hollow swim platform.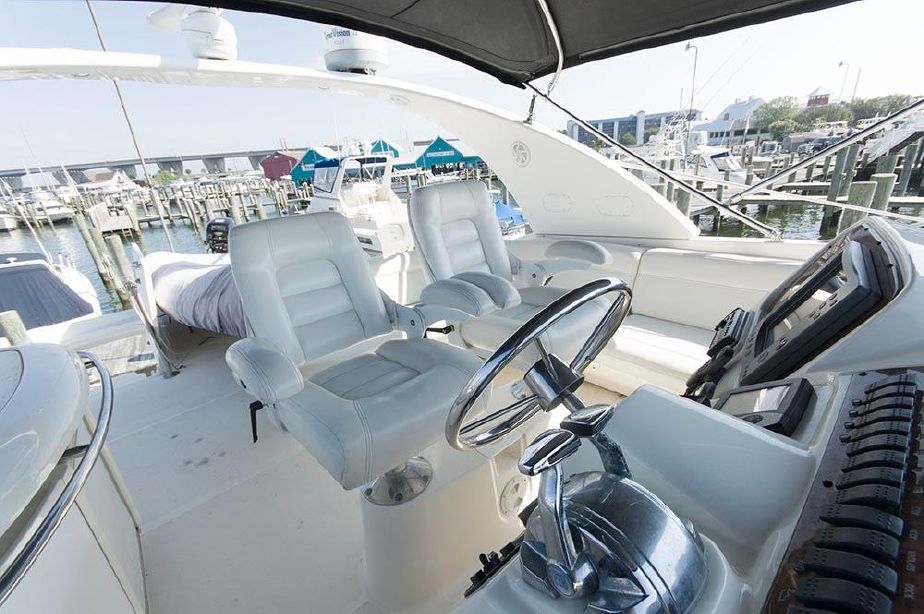 .
———————————————————————————————————————————————————————————————————————————————————————————————————————————————————————————————————
MERIDIAN 490- built from 2003-2008 
LOA: 54′       Beam:15'01"           Bridge Clearance:18'02"       Draft: 3'04"     Headroom: 6'05"     Dry Weight: 29,990lbs
Tankage:      Fuel: 444 gallons    Water: 200 gallons      Holding: 48 gallons
The 490 has the same features we all liked on the 4788's. In the later part of 2004, in a huge improvement, they made an engine room access hatch in the salon sole BETWEEN the engines in addition to the standard entrance via the stairs. On flip side of that improvement- they eliminated the storage under the L-shaped settee, which is odd. There's nothing in there, they just installed modular seats that do not open up. I'm sure a good upholstery shop can rectify this. On the 4788 this L-shaped seating areas is one of the storage area's for bulk goods, and is also a popular place to install an inverter, being that the batteries are (offset) below this space in the lazarette.
Although no Meridian 58's or 490's hulls were laid up after 2008,  a few 490's were given 2010 HIN numbers, as they were still at the factory in 2009, and not sold until 2010. You would have to ask the Coast Guard that 'trick'.
Although built in the same moulds as the Bayliner Yachts, the Meridians have different shaped port lights than the Bayliners, and the Meridian 580's have larger salon windows that don't open-unlike the 5788's.  The 580 and 540 Meridians do not have port side pilothouse doors. The fit and finish of the interior is richer with the Meridians, better grade carpeting, hardware, and a MUCH higher quality pilothouse helm chair, etc.
Meridian History & Updates; the first year (2003) the Meridian 490's were introduced they actually were just leftover 2002 4788's models with teak interiors, with the last letter of the HIN number changed. The portlight shapes are different in the hull, as are the engine air intakes.  Other than that…pretty much identical exteriors.  I had clients attempt to purchase new 03 Meridians back in 03. The dealers stood firm at $530k no matter how hard they tried to buy for less. Surprisingly enough -none of the new 490's had the high gloss Cherry Wood interiors everybody loved about the 2002 4788's.
The salon TV's on Merididan 490's no longer have a cover, so you always have a "glass eye" staring at you. Their prices were substantially ($150k dealer cost) higher than what the 02 Bayliners. Brunswick did a major dealer "sweep" in 2002 and eliminated many long time Bayliner dealers from selling this "new" line of boats, instead having many Sea Ray dealers market these vessels.  As you can imagine this threw this market in total disarray as most Sea Ray dealers who had been selling Sea Rays, sometimes literally across the street from Bayliner Dealers for decades, now all of a sudden were being instructed to promote a boat they had spent years selling against. It's safe to say it caused a lot of confusion in the boat market and sales were sporadic as there was huge buyer reluctance to pay hundreds of thousands of dollars more for basically the exact same boat (minus standard features of a 4788) it had replaced only months earlier.
Meridian 490 misconception; The engine room access hatch in the salon was NOT a standard feature on these vessels until the mid 2004 models. Like the 4788's, many of Meridian 490 owners had the hatch installed. It's a rather simple procedure, but it does necessitate new carpet in the salon.
Florida residents can legally leave their purchase here in Florida for 90 days without Florida sales tax being due. You can buy another 90 day decal, which mudy be purchased from a Dealer or Yacht Broker at time of purchase that allows a buyer another 90 days on top of the original 90 days- for a total of 180 days. So-fly here, cruise the Bahamas (45 miles from America), the Keys, or Cuba (90 miles from Marathon or Key West) and experience crystal clear water while enjoying your new yacht.  Don't be in such a hurry to return to opaque water.
.
TRANSPORT
The Meridian Pilothouse Motoryachts were all built in the Washington State plant. The 490's were trucked directly to their dealers, but the 540's and 580s were trucked to Galveston Texas where they were assembled then run on their bottoms to the East Coast Dealers when new. SOME may have also been trucked to their dealers in the Midwest.  The 540's and 580's  will require MUCH more in decommissioning to truck than the smaller boats but these boats are quite capable of running on their bottoms pretty much anywhere coast wise (or across the Caribbean) if you have the time.
OR VIA SHIP -I'm finding that with the higher and higher prices of trucking, it now makes sense if your going coast to coast to just use SHIPS (link on front page) . It's almost the same kind of money as trucking, plus the boat does not need to have any thing taken apart. They can drop you off in Costa Rica , Mexico, or British Columbia Canada.  I've recently (2014) sent 4788's and 490's from Ft. Lauderdale- to New Zealand and Australia from $35k to $50k.
In 2016 a 5788 went to New Zealand from West Palm Beach for $75k . SHIPPING PRICES is all Supply and Demand so please contact the shippers direct (links here on my site).
2014:  Dockwise and Seven Star have merged.
2016:  I've been told that the normally scheduled ships from the USA to Australia and New Zealand are on hold until further notice due to the low demand due to Australia's economic problems, plus the strong US dollar, which has now made American goods quite pricey.
2018: Ships are running again. The uptick in the economy has allowed them to return service to Ensenada Mexico (close to California) and BC -close to Washington State
Note that the air intake covers on the 490 Meridian extend past the rub rail. This is the reason the Meridians have their beam listed at 15'01" while the Bayliners are 14'11", it's solely the engine air intake vent covers.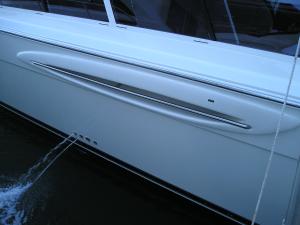 If your going to truck a 4788 or 490 you need to get it down to this height as shown in the photo below.
The following must be brought down to do so: arch, flybridge windshield, the steering wheel pod, and props. Most all were brought from the factory like this. They were DESIGNED to be trucked so it's no "big deal" (other than a lot of 5200 has to be removed and replaced). Expect to pay at least $3k at each end for a yard to take it apart, and to reassemble. Don't forget these expenses when a trucker gives you quotes.
ALL the truckers I used to use (who dismantled, prepped, trucked, and reassembled) for trucking these boats got out of the boat transport business years ago when all the manufacturers went out of business, whilst at the same time it became cheaper for a buyer to use SHIPS from Florida to the West Coast of America. Therefore I no longer have any particular truckers I can recommend.
Blake Davis Yacht Brokerage Inc. 4308 Village Palm Ln. St. Lucie Village, Fl. 34946